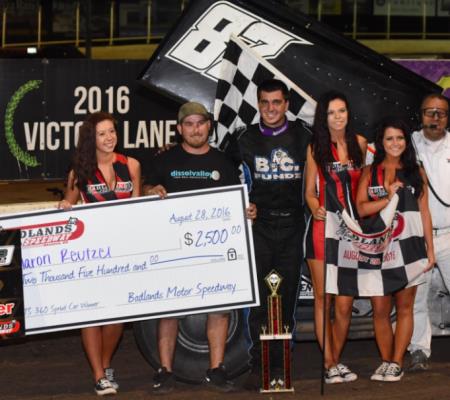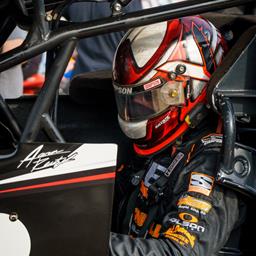 ---
Reutzel Racks Up Another Win en Route to Jackson Nationals
Lonnie Wheatley, CLUTE, Texas (September 1, 2016) – Aaron Reutzel is set for double duty at this weekend's Jackson Nationals at Minnesota's Jackson Motorplex after a weekend that netted his fifth overall win of the 2016 campaign.
This weekend's Jackson Nationals that takes place on Friday, Saturday and Sunday culminates with a $25,000-to-win NSL 410-ci Sprint Car feature and a $10,000-to-win ASCS National Tour feature event on Sunday, making for a potential big pay day for the driver of the Dissolvalloy Downhole Revolution/BC Fundz No. 87 Triple-X Sprint Car from Clute, TX.
"We have been good at Jackson, we should have won last time there in the 410 and basically gave it away," Reutzel says. "If we can avoid parts failures and I do my job, it can be a big weekend."
Reutzel takes some momentum into the weekend aboard the Wren Motorsports/Momentum Racing Suspensions entry after a triple-header that concluded with Sunday night's MSTS 360-ci win at Badlands Motor Speedway after a promising World of Outlaws outing on Friday and then a runner-up 410-ci finish at Badlands on Saturday.
"It was a really good weekend, the World of Outlaws on Friday was our only downfall," Reutzel explains.
And it started out in such strong fashion for the driver of the Danny Sander Construction/ButlerBuilt machine with second-quick time in qualifying in his first visit to Grand Forks, North Dakota's River Cities Speedway.
"That's the most important part of a World of Outlaws race, laying down a good lap in qualifying," Reutzel says. "If you can do that, you're in good position for a good night."
What started off in such promising fashion went up in smoke just as quick with engine problems in the heat race while leading.
"We had to thrash to change engines in time for the B," Reutzel says. "We got to the feature, but we weren't really ready so we just took the green and pulled in."
The reigning Lucas Oil ASCS National Tour champion then took the Wright Way Logistics/Walker Performance Filtration machine to Brandon, South Dakota's Badlands Motor Speedway for some Saturday night 410-ci action and found himself starting the feature in fourth after qualifying seventh and then winning his heat race.
"It was rough and heavy," Reutzel recalls.
And he found it to his liking, racing into the lead in short order and then working his way through traffic.
"I was getting through traffic okay, then there was one car I was struggling with," Reutzel explains. "I jumped the curb in four and (Mark) Dobmeier got by."
Reutzel wasn't done though, as he tried to battle back for the win.
"I tried to get by on the low side, but he chopped me pretty good," Reutzel said after settling for runner-up honors. "It was still pretty good, getting $4,500 for second."
Reutzel swapped powerplants for Sunday's MSTS 360-ci action and started the feature in seventh.
"The track was nice, it was right up on the fence," Reutzel says. "I got up to fourth right away, but those front three were pretty far out there."
But when the lead trio began racing with each other, Reutzel was quick to take advantage.
"They got to racing hard and I was able to catch them," Reutzel says. "I passed two of them in turns three and four and then slid the other one in turn one and that was all she wrote."
Reutzel's fifth triumph of the season was worth $2,500.
He looks to add some even more lucrative victories this weekend.
2016 Quick Stats: 73 races, 5 wins, 21 top-fives, 33 top-tens.
Up Next:
Friday – Lucas Oil ASCS National Tour at Jackson (MN) Nationals.
Saturday – National Sprint League at Jackson (MN) Nationals.
Sunday – $25,000-to-win National Sprint League and $10,000-to-win Lucas Oil ASCS National Tour at Jackson (MN) Nationals.
Keep Track: Keep track of Aaron Reutzel's on-track action including schedule and results at http://www.aaronreutzelracing.com/, on Facebook at https://www.facebook.com/pages/Aaron-Reutzel-Racing/117666254913127 or on Twitter at @AaronReutzel. You can also e-mail Aaron at aaronreutzel@yahoo.com.
If you would like Aaron Reutzel Racing press releases e-mailed directly to you, send your e-mail address to Lonnie Wheatley at lonniewheatley@gmail.com.
Penning the recurring series of "The Wheatley Chronicles" articles on www.sprintcarmania.com, Lonnie Wheatley provides media, public relations and more for select tracks, drivers and events. For more information, Wheatley may be contacted at lonniewheatley@gmail.com.
---
Article Credit: Lonnie Wheatley
Back to News