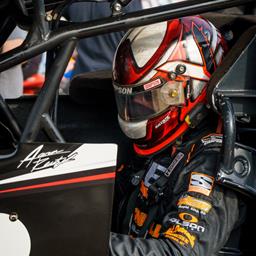 ---
Reutzel Looking for More after Cocopah Score
Lonnie Wheatley, CLUTE, Texas (November 23, 2016) – The 2016 season isn't quite over for Aaron Reutzel. Not just yet.
After capturing his eighth overall win of 2016 in the November 12 Lucas Oil ASCS National Tour season finale at Cocopah Speedway near Yuma, the 2015 series champion looks for more Arizona gold in this weekend's ASCS Southwest "Copper Classic" at Queen Creek's Arizona Speedway.
The two-night "Copper Classic" offers up a $2,000 winner's share in Friday's preliminary before wrapping up with a $5,000-to-win tilt on Saturday.
It's a track that the driver of the Dissolvalloy Downhole Revolution/BC Fundz No. 87 Triple-X Sprint Car has seen once before, albeit without the wing overhead.
"It was nice and wide when we raced wingless there a couple of years ago, so hopefully it'll be like that again this weekend," Reutzel says.
Reutzel enters the weekend off a triumph in the Lucas Oil ASCS National Tour season finale at Cocopah after a charge from 14th to third in the Friday, November 11, prelim aboard the Wren Motorsports/Momentum Racing Suspensions entry.
"We had our normal speed, we just finally had some luck to go with it," Reutzel said of the strong Cocopah outing.
After rallying from eight to third in his Friday night heat race, a qualifying race issue put the Danny Sander Construction/ButlerBuilt deep in the feature field. "We were going good but then got pushed over the cushion and lost a couple of positions."
That put Reutzel 14th in the starting grid for the 25-lapper. It proved not to be a problem.
"We were able to drive right through there up to third and that got us locked in," Reutzel said of the non-stop feature.
Locked into the Saturday feature, Reutzel was able to play the role of observer for much of the night. And it paid off. "After the B's, they started pushing the cushion up so we hurried back to tighten up the car even more."
Starting the ASCS National Tour third aboard the Wright Way Logistics/Walker Performance Filtration Sprint Car, Reutzel ran third in the early going before the battle for the win was on with Sam Hafertepe, Jr.
"It took a couple of laps to get by (Jason) Solwold for second, and then we chased Sam down for the lead," Reutzel says.
While Reutzel initially took command on the seventh round, keeping Hafertepe, Jr., at bay proved to be a tall task.
"Traffic wasn't good to me at all, Sam got back by me a couple of times," Reutzel recalls.
After trading the point several times along the way, Reutzel took over for keeps with six laps to go and went on to his eighth win of the season and another score at the track that offered up his first 410-ci Sprint Car win early in the 2015 season.
"We're always good there for some reason," Reutzel said. "Everything was working good and everything held together."
Now, Reutzel looks for one more strong weekend in Arizona to finish out the 2016 season with this weekend's Copper Classic.
2016 Quick Stats: 97 races, 8 wins, 32 top-fives, 49 top-tens.
Up Next: ASCS Southwest "Copper Classic" at Queen Creek's Arizona Speedway on Friday and Saturday.
Keep Track: Keep track of Aaron Reutzel's on-track action including schedule and results at http://www.aaronreutzelracing.com/, on Facebook at https://www.facebook.com/pages/Aaron-Reutzel-Racing/117666254913127 or on Twitter at @AaronReutzel. You can also e-mail Aaron at aaronreutzel@yahoo.com.
If you would like Aaron Reutzel Racing press releases e-mailed directly to you, send your e-mail address to Lonnie Wheatley at lonniewheatley@gmail.com.
Penning the recurring series of "The Wheatley Chronicles" articles on www.sprintcarmania.com, Lonnie Wheatley provides media, public relations and more for select tracks, drivers and events. For more information, Wheatley may be contacted at lonniewheatley@gmail.com.
---
Article Credit: Lonnie Wheatley
Back to News