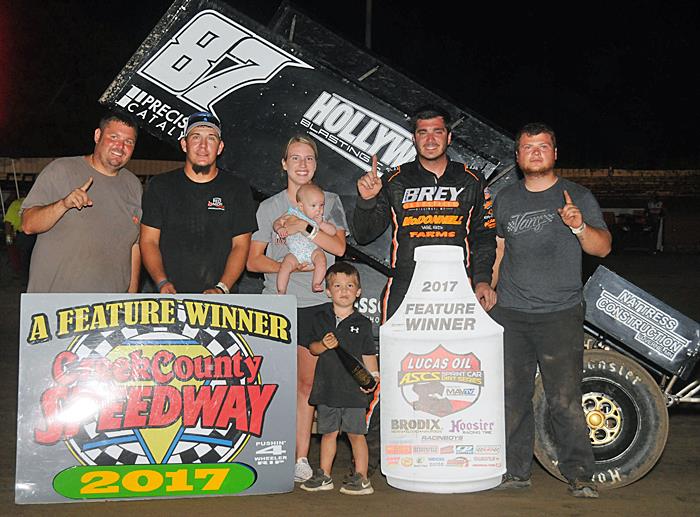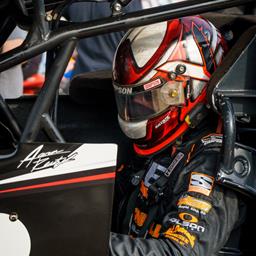 ---
Reutzel Eyes Dirt Cup after Earning Speedweek Title
Lonnie Wheatley, CLUTE, Texas (June 23, 2017) – Aaron Reutzel has been ever so close to winning Skagit Speedway's Jim Raper Memorial Dirt Cup over each of the last two years.
He rides a wave of momentum into the event in Alger, WA, after topping two of the final three rounds to claim this year's ASCS Speedweek championship aboard the Dissolvalloy Downhole Revolution/BC Fundz No. 87 Triple-X Sprint Car.
And, after winning Thursday night's Dirt Cup opener that kicked off the Lucas Oil ASCS National Tour's journey through the Northwest, Reutzel and the Wren Motorsports/Momentum Racing Suspensions team are in prime position thus far for the top spot in Saturday's $15,000-to-win Dirt Cup finale.
"We've been fast there each of the last couple of years," Reutzel said prior to the event. "We've gone from 10th to second two years in a row. We've just had trouble on the preliminary nights and didn't put ourselves in good position to win."
Reutzel got this year's edition of Dirt Cup off to a favorable start in the Wright Way Logistics/Walker Performance entry by emerging atop a battle of slide jobs to win Thursday's night opener, his third Lucas Oil ASCS National Tour win in the previous four events.
Reutzel will try to continue to his recent surge as Dirt Cup prelim action continues on Friday night.
The 2015 Lucas Oil ASCS National Tour champion picked up steam during the ASCS Speedweek that included seven races in nine days from June 9 to June 17.
After slogging through the opening pair of rounds with eighth-place showings at both Lubbock and Amarillo, Reutzel improved to fourth at Devil's Bowl before charging from 18th to second at Lawton. A win at Creek County followed with another near-win at Moberly preceding another victory in the Lucas Oil Speedway finale.
"It was definitely a good rebound week," Reutzel said upon his return from a wild ride on the opening night of Minnesota's Jackson Nationals that sidelined him for the balance of the opening weekend of June.
Speedweek started off inauspiciously enough with an eighth-place showing at Lubbock's West Texas Raceway.
"We rolled out for the heat and broke a shifter cable," Reutzel said of his start to the week. "We rigged it up to work, but the track was so heavy that there wasn't any passing."
Reutzel salvaged the night with a run from 16th to eighth in the feature aboard the Nattress Construction/Wings Unlimited machine. "We passed a few early then got to the guys up front and fell in line."
The next night (June 10) at Amarillo's Route 66 Motor Speedway produced an identical eighth-place result.
"We weren't very good in the heat, then the feature start got jumbled up and we got hit from behind and half spun to the infield," Reutzel said of losing several positions from his 13th starting place in the grid. "We worked back up to tenth before it rubbered up, then managed to get a couple more before it was over."
After two nights off, Reutzel improved to fourth on a Tuesday night (June 13) at Devil's Bowl Speedway in Mesquite, TX.
"We drew the front row and won our heat, then redrew a four for the feature," Reutzel recalls. "It was full throttle around the top."
Reutzel was soon engaged in battle with Sam Hafertepe, Jr., for the win. "I got to Sam and started trying some stuff, Sam was getting through lapped cars a little better than me," Reutzel says. "A lapped car finally messed me up, he drove through the back of us while we were second and knocked us back a couple of spots."
The following night at Lawton (OK) Speedway started with another tough draw. "We started fifth and finished fifth in the heat, it was one lane and heavy with good cars," Reutzel relates.
The track soon started to widen out, with Reutzel winning the "B" Main to earn the 18th starting position.
"The track was really good and made for a lot of passing," Reutzel says. "We ran all the way up to second, we just needed a caution in the last ten laps or so to have a chance at the win."
Moving on to Creek County Speedway near Tulsa, OK, on Thursday night, June 15, it was time for the No. 87 to return to victory lane.
After racing from third to second in his heat race, young son Carson pulled the number one pill in the redraw.
"The one was much-needed, it was heavy and one-lane," Reutzel recalls. "We got the jump and made it into turn one first, that was pretty much the race right there."
Reutzel had his sights on a second win in a row the next night at Moberly, Missouri's Randolph County Raceway until a right rear wheel packed with mud derailed his drive.
"We started fourth and were leading on the second lap," Reutzel says. "We got in a battle with Brian (Brown) for the win, I was sliding a lapped car and packed the right rear wheel with mud. The vibration got so bad that it shook the right rear arm off and ended our race, that' s just the second time that's ever happened to me."
This rendition of ASCS Speedweek wrapped up on Saturday night at Wheatland, Missouri's Lucas Oil Speedway and Reutzel put away the Speedweek title with his second win in three nights.
Reutzel started the night in strong fashion by winning his heat from the pole to get in the redraw. "And Carson drew the pole again," Reutzel said of his lucky charm.
"We ran the bottom the first five laps or so, but I could feel that I was slowing down each lap so I aborted the bottom to go to the top," Reutzel describes. "For the first two or three laps, Blake (Hahn) was getting even. But the bottom finally slowed down enough and we set sail from there."
With his first ASCS Speedweek championship in the books, Reutzel and crew made the non-stop, 2,000-mile trek to Alger, WA, for Dirt Cup action that kicked off quite successfully on Thursday night.
Reutzel will try to put together one more night of strong Dirt Cup preliminary action on Friday to get in position for Saturday night's $15,000 winner's share.
2017 Quick Stats: 38 races, 4 wins, 11 top-fives, 18 top-tens.
Up Next: Lucas Oil ASCS National Tour at Skagit Speedway's Dirt Cup on Thursday, June 22, through Saturday, June 24.
Keep Track: Keep track of Aaron Reutzel's on-track action including schedule and results at http://www.aaronreutzelracing.com/, on Facebook at https://www.facebook.com/pages/Aaron-Reutzel-Racing/117666254913127 or on Twitter at @AaronReutzel. You can also e-mail Aaron at aaronreutzel@yahoo.com.
If you would like Aaron Reutzel Racing press releases e-mailed directly to you, send your e-mail address to Lonnie Wheatley at lonniewheatley@gmail.com.
Penning the recurring series of "The Wheatley Chronicles" articles on www.sprintcarmania.com, Lonnie Wheatley provides media, public relations and more for select tracks, drivers and events. For more information, Wheatley may be contacted at lonniewheatley@gmail.com.
---
Article Credit: Lonnie Wheatley
Back to News