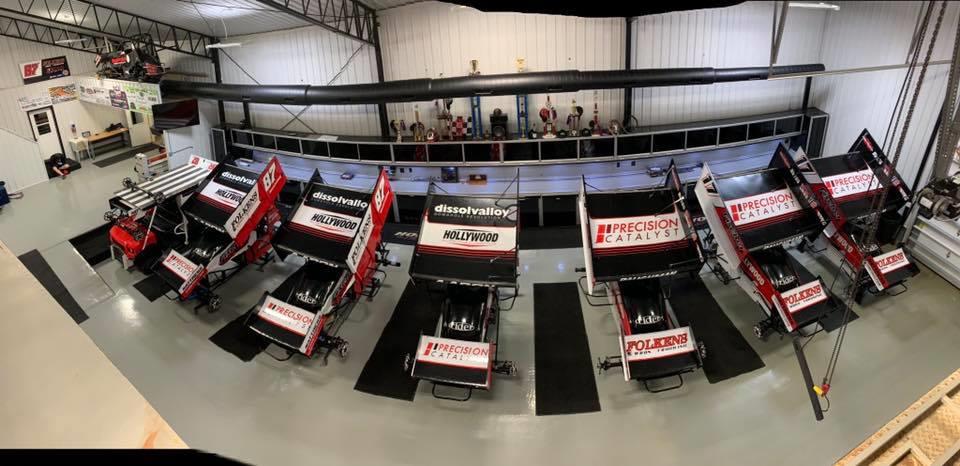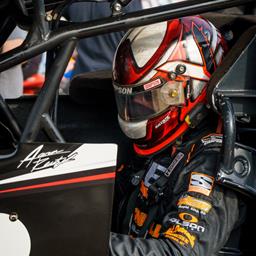 ---
Reutzel and the BRM Team Kick Off 2019 Season with All Stars this Weekend in Florida
Lonnie Wheatley, CLUTE, Texas (January 30, 2019) – The 2019 Sprint Car season begins in stark contrast to 2018 for Aaron Reutzel and the Baughman-Reutzel Motorsports No. 87 team.
At this time one year ago, Reutzel and the Folkens Brothers Trucking/Dissolvalloy Downhole Revolution Triple-X crew were busily prepping cars for the newly-formed team's first season that began several weeks later with the World of Outlaws in Las Vegas.
This year, the team has enjoyed the luxury of a brief off-season to get fully prepared for the upcoming season of Sprint Car battles across the land with the All Star Circuit of Champions and World of Outlaws beginning with this weekend's set of All Star events at Ocala, Florida's Bubba Raceway Park on Thursday, Friday and Saturday.
There has been little downtime however with the construction of the team's new shop in Knoxville, IA, along with the typical off-season preparations.
"It has been busy, getting the shop together and getting all the cars prepped for this year," Reutzel says. "I feel good about where we're at with everything though, we're way ahead of where we were last year at this time."
Not that last year's rush to readiness proved to be a hindrance, as Reutzel and the Precision Catalyst/Hollywood Blasting & Coating/Beard Equipment team found success early and often with a top-five finish with the World of Outlaws the second night out at Las Vegas and then his first WoO triumph the next time out at Tulare's Thunderbowl Raceway.
"When you're putting together a program like that, there's always that question of whether this is going to work the way you think it is or not," Reutzel relates. "Getting off to a fast start like that gave us a lot of confidence, we knew then that we were on the right path."
They certainly were with Reutzel picking up his first career All Star win aboard the Nattress Construction/Momentum Racing Suspensions entry soon after on May 5 at Ohio's Sharon Speedway and then racking up another eight series win en route to the series championship that was celebrated at the awards ceremony in Indianapolis to conclude the 2018 season in December.
"It was nice to have a banquet and be able to relax for just a few moments and look back on the kind of season that we had," Reutzel recalls. "There were some ups and downs along the way, there always is, but as a team we persevered and came away with the All Star championship in our first year. It's definitely something that we can build upon going into 2019."
Along with his All Star Circuit of Champions success, Reutzel also posted eight top-ten finishes in a selected slate of World of Outlaws events including a fourth-place finish in the Knoxville Nationals.
"That was a huge moment for our team, to be right in the thick of it at the Knoxville Nationals was a pretty amazing accomplishment," Reutzel comments.
Overall, Reutzel and the BRM No. 87 team displayed their versatility by landing 11 feature wins at as many different tracks in 2018. Those wins were among 27 top-fives and 40 top-ten runs.
Ready to kick off the 2019 campaign aboard the BRM No. 87 Sprint Car with a flurry of Florida activity at Bubba Raceway Park this week and then next week's DIRTcar Nationals at Volusia County Speedway with All Star action on Wednesday and Thursday leading into three nights of World of Outlaws competition, Reutzel has already turned some early-season laps at the recent Chili Bowl Nationals in Tulsa, OK.
After getting familiar with Joe Dooling's No. 92 SR-11 powered Spike chassis in the Tuesday night, January 15, Race of Champions, Reutzel raced to a 13th-place finish in the Wednesday night preliminary feature before finishing out the week in Saturday night's "C" Main action among a field of 350 competitors.
"It was a fun experience, and we got dialed in more and more every time we hit the track," Reutzel says. "It takes some adjusting going from a Sprint Car to the Midget. It was just my third time in a Midget and I feel like we're close to making the show and being right there, hopefully we have another opportunity next year."
For now, Reutzel turns his attention to the BRM No. 87 business at hand that begins with this weekend's All Star Circuit of Champions competition at Bubba Raceway Park.
2018 Quick Stats: 75 races, 11 wins, 27 top-fives, 40 top-tens.
Next Up: All Star Circuit of Champions at Bubba Raceway Park in Ocala, FL, on Thursday, Friday and Saturday. Those unable to attend in person can catch all the action live via PPV on https://www.speedshifttv.com/.
Keep Track: Keep track of Aaron Reutzel's on-track action including schedule and results at http://www.aaronreutzelracing.com/, on Facebook at https://www.facebook.com/pages/Aaron-Reutzel-Racing/117666254913127 or on Twitter at @AaronReutzel. You can also e-mail Aaron at aaronreutzel@yahoo.com.
If you would like Aaron Reutzel Racing press releases e-mailed directly to you, send your e-mail address to Lonnie Wheatley at lonniewheatley@gmail.com.
---
Article Credit: Lonnie Wheatley
Article Media
Back to News