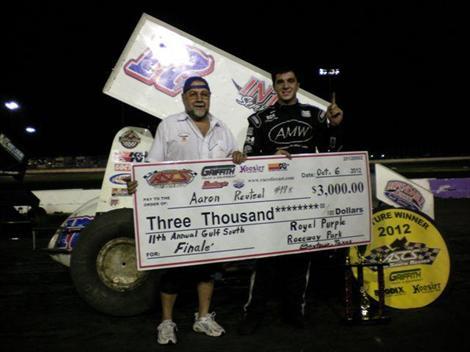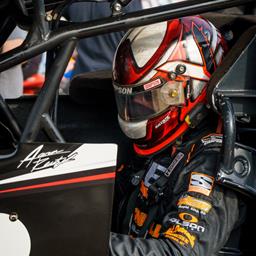 ---
Reutzel Dominates Baytown
Bryan Hulbert - Baytown, Texas (October 6, 2012) To say that Aaron Reutzel won the Griffith Truck and Equipment ASCS Gulf South season finale at Baytown's Royal Purple Raceway would be an understatement.
Taking the lead from the drop of the green, the Laney Boring / Wesmar No. 17r utilized the high line; wasting little time opening up a sizable advantage. Despite begin slowed for five cautions during the night's 30 lap, $3,000 to win feature event the Clute, Texas racer managed to leave only four cars on the led lap when all was said and done.
Leaving the field to battle for second, the No. 15h of Sam Hafertepe Jr. and No.15t of Travis Elliot fought most the race with Hafertepe taking the runner up spot before being disqualified at the scales for begin to light. Elliot would be credited with second with Michael McNeil taking the final step on the podium.
Ray Allen Kulhanek grabbed fourth along with the 2012 Griffith Truck and Equipment ASCS Gulf South Championship while Brandon Berryman rounded out the top five.
Beau Smith was sixth with Larry Howery earning the Weld Wheels Hard Charger, climbing from twenty-first to seventh. Klint Angelette, Tommy Bryant, and Chris Sweeney made up the top ten.
Griffith Truck and Equipment ASCS Gulf South Region
Royal Purple Raceway - Baytown, Texas
October 6, 2012
Car Count: 30
Heat 1 (8 Laps): 1. 21T-Ray Allen Kulhanek; 2. 28-Tommy Bryant; 3. 22-Koby Barksdale; 4. 88-Scottie McDonald; 5. 8-Channin Tankersley; 6. 14-Michael Lang; 7. 69-Larry Howery; 8. 31-Brandon Berryman
Heat 2 (8 Laps): 1. 15T-Travis Elliott; 2. 52-Roger Oakes; 3. 19-Klint Angelette; 4. 51-Beau Smith; 5. 15H-Sam Hafertepe Jr; 6. 15-Andrew VanBlarcum; 7. 6-Ryan Beechler; 8. 80-Richard Jones
Heat 3 (8 Laps): 1. 17R-Aaron Reutzel; 2. 25M-Michael McNeil; 3. 29-Travis Rilat; 4. 66-J.J. Simmons; 5. 2-Wes Miller; 6. 24-Brandie Jass; DNS 22K-Kevin Barksdale
Heat 4 (8 Laps): 1. 17T-Chris Bell; 2. 35-Greg Rilat; 3. 85-Jerry Bell; 4. 93-Chris Sweeney; 5. 12-Logan Bledsoe; 6. 02-Harry Yerrington; 7. 36-John Pate
B Feature (12 Laps): 1. 93-Chris Sweeney; 2. 31-Brandon Berryman; 3. 69-Larry Howery; 4. 14-Michael Lang; 5. 36-John Pate; 6. 24-Brandie Jass; 7. 15-Andrew VanBlarcum; DNF 2-Wes Miller; DNF 02-Harry Yerrington; DNF 22K-Kevin Barksdale; DNS 80-Richard Jones; DNS 6-Ryan Beechler
A Feature (30 Laps): 1. 17R-Aaron Reutzel; 2. 15T-Travis Elliott; 3. 25M-Michael McNeil; 4. 21T-Ray Allen Kulhanek; 5. 31-Brandon Berryman; 6. 51-Beau Smith; 7. 69-Larry Howery; 8. 19-Klint Angelette; 9. 28-Tommy Bryant; 10. 93-Chris Sweeney; 11. 22-Koby Barksdale; 12. 88-Scottie McDonald; 13. 35-Greg Rilat; 14. 52-Roger Oakes; 15. 24-Brandie Jass; DNF 85-Jerry Bell; DNF 66-J.J. Simmons; DNF 14-Michael Lang; DNF 8-Channin Tankersley; DNF 17T-Chris Bell; DNF 29-Travis Rilat; DNF 12-Logan Bledsoe; 23. 15H-Sam Hafertepe Jr; 24. 36-John Pate
Photo Credit: Craig Johnson
---
Article Credit: Bryan Hulbert
Submitted By: Shelbey Reutzel
Back to News