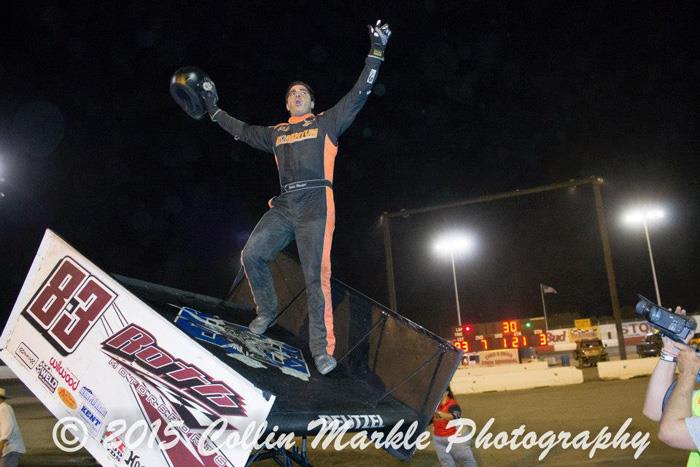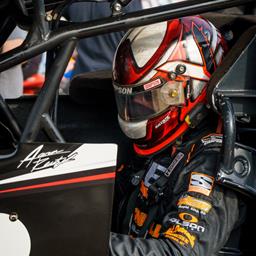 ---
Reutzel Secures Roth Ride for Nationals after Near Perfect Weekend
Lonnie Wheatley, CLUTE, Texas (July 29, 2015) – Two wins in three races made it very nearly a perfect weekend for Aaron Reutzel.
Only a Friday night fueling issue could prevent Reutzel from posting the standard trifecta of three feature wins in Wyoming, South Dakota and California over the course of four days.
Still, two wins in two different cars along with a fourth-place finish after dominating much of the way is nothing to scoff at.
"It could have easily been a sweep, Friday was the only bad part of it," the current Lucas Oil ASCS National Tour contender commented.
After posting his fifth ASCS National Tour win of the year on Wednesday at Wyoming's Gillette Thunder Speedway aboard the Shark-powered BC Fundz/Basic One Services No. 87 Triple X Sprint Car and then finishing fourth on Friday at Black Hill Speedway, Reutzel jetted to the left coast where we he bagged an $11,000 triumph in the King of the West Sprint series "Peter Murphy Classic".
And with that win in just his second outing aboard the Roth Motorsports No. 83sr machine, it secured him the seat for the upcoming 55th Annual FVP Knoxville Nationals.
"I feel like it gives us a really good shot at Rookie of the Year honors at the Nationals," Reutzel says. "They have the best of everything and they've been there plenty before, it's an honor to compete in my first Knoxville Nationals with such an established team."
Reutzel will also pilot the Roth No. 83 in the Sunday, August 9, Capitani Classic at Knoxville Raceway as well as the August 10 "Front Row Challenge" at Oskaloosa's Southern Iowa Speedway.
Before that though, there is plenty of business to tend to including the Lucas Oil ASCS National Tour "Road to Knoxville" event at Greenwood, Nebraska's I-80 Speedway on Thursday and Friday and then next week's 25th Annual Arnold Motor Supply Knoxville 360 Nationals.
Reutzel goes into the I-80 double enthused about the opportunity to contend for a Nebraska win or two. "I've only been there a couple of times and didn't really have the motor either time to be that competitive. If all is good we should have a shot at running up front and hopefully put some distance between us and Johnny (Herrera) in points."
Reutzel holds a 50 point advantage over Herrera in the $60,000 Lucas Oil ASCS National Tour championship chase after the duo split wins last week.
Coming off finishes of first and second in Montana, Reutzel carried his momentum aboard the Wren Motorsports/Momentum Racing Suspensions machine into Wednesday's card at Gillette Thunder Speedway.
"We drew a good heat and won that, then redrew a four for the feature," Reutzel explains. "They watered the top before the feature, so I knew the top would stay fast the entire race."
Reutzel gunned into the lead early aboard the Dissolvealloy Frac Ball Revolution machine and dominated throughout for his ninth overall triumph of the year.
"They had one open red that I really didn't want, we were good and I didn't want the other guys getting a second chance," Reutzel said. "It turned out to not really matter though, we were going that good that nobody had anything for us."
From there, Reutzel and the Danny Sander Construction/ButlerBuilt team went on to Rapid City, South Dakota's Black Hills Speedway on Friday night.
"We were dominating that deal too," Reutzel said of what could have been another victory.
"We started fifth, but the first few laps it wouldn't hardly run," Reutzel relates. "Then it cleared out and we took off."
Took off in a big way, with Reutzel distancing himself from the field aboard the Lone Star Hydro Maintenance/Wright Way Logistics Sprint Car.
"We had a five second lead, then a caution came out," Reutzel recalls. "It never cleared out after that and we just couldn't get rolling, they were driving by me on the straightaways."
The problem turned out to be the main fuel line. "We checked everything, it turned out the main fuel line had a leak, it was sucking air."
Reutzel still held on to post a fourth-place finish. "It sucks when you give away a win," he laments.
An early wakeup call was in Reutzel's immediate future after Friday's Black Hills event.
"I was up at 4:30 a.m. and the flight left at 5:30 a.m., I just tried to get a little sleep on the plane," Reutzel says.
He was making the flight from Rapid City International to California to join forces with the Roth Motorsports No. 83 for the "Peter Murphy Classic" at Tulare's Thunderbowl Raceway.
And the Roth Enterprises/HR Livestock Transportation/3H Cattle No. 83sr Sprint was fast from the outset in the 410-ci King of the West Sprint Car event.
"The car was good but I didn't get a very good hot lap, so then I didn't know exactly what to expect for qualifying," Reutzel said. "We were only 14th in qualifying but that actually worked out good, it put us on the pole of a heat race."
Reutzel took quick advantage, winning his heat to land a place in the Australian-style Pole Shootout, where he ultimately earned the seventh-starting position in the night's 30-lap feature.
"The first few laps I just kinda rolled the bottom and bided my time," Reutzel explains. "I jumped up top some to feel it out but didn't get too crazy."
"The next to last caution, I started making up some ground on Hirst and thought I might have something for them," Reutzel continues. "The last restart I pulled the wing all the way back, I had the bottom so I was able to get Hirst. Then I just pounded the fence the rest of the way and it worked out."
Reutzel pounded the Thunderbowl fence around Meyers in the closing laps and went on to the $11,000 payday as he made his presence known to the California contingent with his tenth overall win of the year and second in 410-ci competition.
An $11,000 payday and a prominent ride for the upcoming Knoxville Nationals, not a bad way to finish out a weekend.
2015 Quick Stats: 43 races, 10 wins, 25 top-fives, 32 top-tens.
Up Next: Lucas Oil ASCS National Tour action with the Road to Knoxville event at Greenwood, Nebraska's I-80 Speedway on Thursday and Friday followed by a stop at Knoxville Raceway on Saturday to get dialed in for the upcoming 360 Nationals and Knoxville Nationals.
Keep Track: Keep track of Aaron Reutzel's on-track action including schedule and results at http://www.aaronreutzelracing.com/, on Facebook at https://www.facebook.com/pages/Aaron-Reutzel-Racing/117666254913127 or on Twitter at @AaronReutzel. You can also e-mail Aaron at aaronreutzel@yahoo.com.
If you would like Aaron Reutzel Racing press releases e-mailed directly to you, send your e-mail address to Lonnie Wheatley at lonniewheatley@gmail.com.
Penning the recurring series of "The Wheatley Chronicles" articles on www.sprintcarmania.com, Lonnie Wheatley provides media, public relations and more for select tracks, drivers and events. For more information, Wheatley may be contacted at lonniewheatley@gmail.com.
(Photo courtesy of Collin Markle Photography)
---
Article Credit: Lonnie Wheatley
Submitted By: Lonnie Wheatley
Back to News