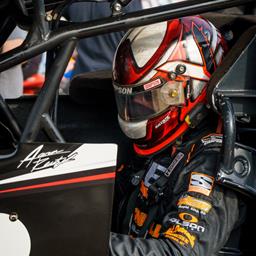 ---
Reutzel Ready for First Doty & Kings Royal Events
Lonnie Wheatley, CLUTE, Texas (July 10, 2018) – Aaron Reutzel and the Baughman-Reutzel Motorsports No. 87 Sprint Car team came out of the gates with guns-a'-blazin' at the outset of the 2018 season. And it's a trend that has continued.
The Clute, TX, racer picked off his first career World of Outlaws win early on in the season and has since racked up a handful of All Star Circuit of Champions feature wins to firmly entrench himself in the series championship battle aboard the Folkens Brothers Trucking/Dissolvalloy Downhole Revolution Triple-X Sprint Car.
So, it was only a matter of time until the inevitable week of disappointing outings occurred.
And that was last week with struggles in three rounds of Pennsylvania Speedweek and then an All Star card.
"Long story short, we sucked all week," Reutzel summed up.
Reutzel and the Precision Catalyst/Hollywood Blasting & Coating/Beard Equipment crew look to get back to their winning ways beginning with Tuesday night's "Brad Doty Classic" at Ohio's Attica Raceway Park and then three nights of action at Rossburg's Eldora Speedway that culminates with the $50,000-to-win Kings Royal on Saturday night.
It will be Reutzel's first attempt at either event.
"We've been going through everything, so we should be ready to go," Reutzel says.
The trials and tribulations of last week began with a Tuesday night card at Bechtelsville's Grandview Speedway, where Reutzel held down sixth in the feature aboard the Nattress Construction/Momentum Racing Suspensions entry. At least until trouble arose in the form of a broken hood that ultimately forced him pitside.
Action moved on to Port Royal Speedway on Wednesday where more problems persisted. "We had a horrible vibration all night, it ended up being a left front that was way out of balance," Reutzel said after making an early exit from the feature.
After racing into the feature once again on Thursday night at Maryland's Hagerstown Speedway, the struggles of the week continued with just a 14th-place finish. "We just never could get a good handle on it," Reutzel sums up.
All Star Circuit of Champions action resumed on Saturday night at Hartford, Ohio's Sharon Speedway with Reutzel salvaging an 18th-place showing on the night. "It was basically the same as Hagerstown for us, we just never got a handle on the track," Reutzel wraps up.
Reutzel and crew look to get back on track as the "Month of Money" kicks into full swing this week. Reutzel has posted a pair of seventh-place finishes at Attica earlier this season and scored a podium finish in World of Outlaws action at Eldora Speedway.
2018 Quick Stats: 39 races, 6 wins, 15 top-fives, 20 top-tens.
Up Next:
Tuesday, July 10 – World of Outlaws "Brad Doty Classic" at Attica (OH) Raceway Park
Thursday, July 12 – World of Outlaws "Jokers Wild" at Eldora Speedway (Rossburg, OH)
Friday, July 13 – World of Outlaws "Knight before the Kings Royal" at Eldora Speedway (Rossburg, OH)
Saturday, July 14 – World of Outlaws "Kings Royal" at Eldora Speedway (Rossburg, OH)
For those unable to catch the action in person, all four of these events are available via PPV at www.dirtvision.com.
Keep Track: Keep track of Aaron Reutzel's on-track action including schedule and results at http://www.aaronreutzelracing.com/, on Facebook at https://www.facebook.com/pages/Aaron-Reutzel-Racing/117666254913127 or on Twitter at @AaronReutzel. You can also e-mail Aaron at aaronreutzel@yahoo.com.
If you would like Aaron Reutzel Racing press releases e-mailed directly to you, send your e-mail address to Lonnie Wheatley at lonniewheatley@gmail.com.
Penning the recurring series of "The Wheatley Chronicles" articles on www.sprintcarmania.com, Lonnie Wheatley provides media, public relations and more for select tracks, drivers and events. For more information, Wheatley may be contacted at lonniewheatley@gmail.com.
---
Article Credit: Lonnie Wheatley
Back to News