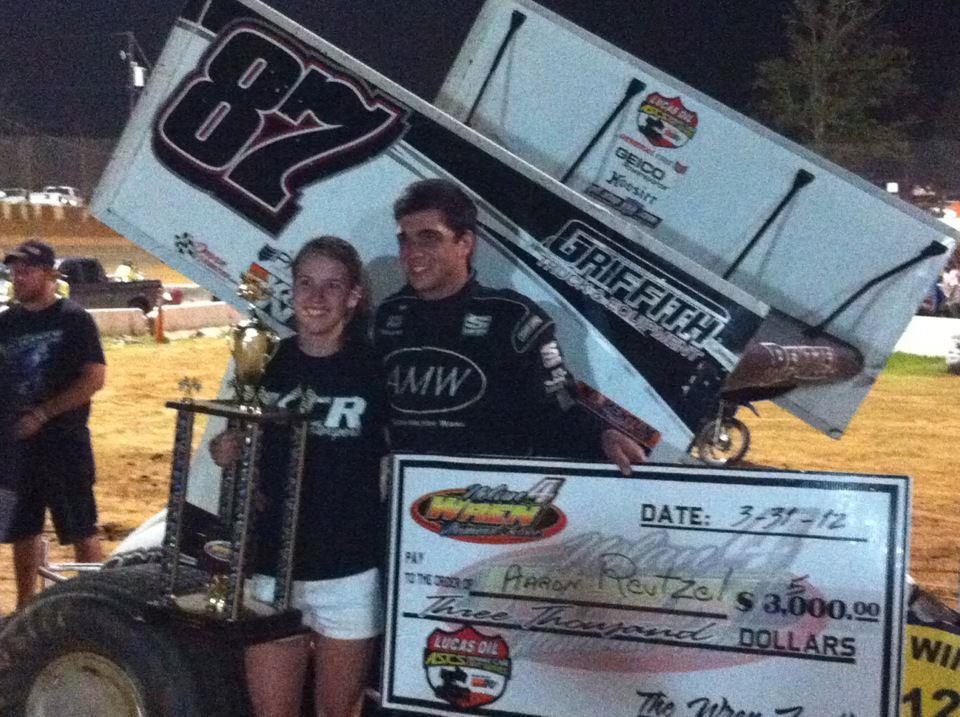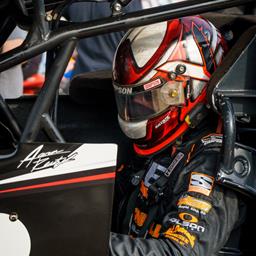 ---
Reutzel sweeps up the 1st Annual Nolan Wren Memorial!
Cody Morris, WILLIS,TEXAS (3-31-2012) - 32 sprints checked into the Gator Motorplex for Griffith Truck and Equipment ASCS Gulf South region action in the inaugural running of the Nolan Wren Memorial.
Clute, Texas native and 2009 ASCS Gulf South Region champion Aaron Reutzel outlasted Liberal, Kansas native and perennial ASCS National Tour contender Tony Bruce Jr. to pick up his 1st ASCS victory of the 2012 season.
While Texas City native Greg Rilat paced the field to the start of the 30 lap main event, it was reigning back-to-back Gulf South champ Ray Allen Kulhanek taking command after a Brandon Corn motor failure concluded his disastrous weekend following a Friday night flip in Gulf South action at Waco.
Kulhanek set the fast pace until challengers Tony Bruce Jr. and Aaron Reutzel both battled past on the 18th circuit, with Reutzel narrowly gaining advantage before a lap 20 yellow for a stalled Kevin Ramey.
Bruce offered immediate challenge to Reutzel upon the lap 20 restart, but Reutzel turned in a valiant defense, ultimately taking a 3 car length advantage into the history books as the winner of the 1st annual Nolan Wren Memorial aboard Kenny Reutzel's Simpson Race Products no. 87 Triple X.
Tony Bruce Jr. settled for his 2nd runner up finish in as many nights, with reigning champion Kulhanek taking show position honors.
Polesitter Greg Rilat crossed the finish line fourth, with Snohomish, Washington's ASCS National Tour regular Seth Bergman balancing out the top 5 running order.
A victory worth $3,000 and $700 more in contingency bonus for Aaron Reutzel, but with another value of an absolutely priceless nature, as Aaron is a close friend of the Wren family and often competes in the Ralph and Terri Wren Motorsports no. 4w in regional mini sprint action.
On this memorable night, mini sprint veteran and Osceola, Arkansas native Travis Senter piloted the Wren Motorsports no. 4w to an ecstatic and emotional victory lane in EMSA mini sprint action at the 1st Annual Nolan Wren Memorial.
Scotty McDonald, Aaron Reutzel, Tony Bruce Jr., and Greg Rilat each earned heat race honors of the 32 car field, with Kevin Ramey and Brandon Corn taking winning-style transfers in the twin 12 lap B Feature events.
Griffith Trucking and Equipment ASCS Gulf South continues Friday, April 13th at Golden Triangle Raceway Park in Beaumont, Texas with a weekend conclusion Saturday, April 14th at Battleground Speedway in Highlands, Texas. The weekend represents rounds five and six of a 2012 campaign that features an impressive 26 events.
A Feature (30 Laps): 1. 87-Aaron Reutzel[6]; 2. 18-Tony Bruce Jr[7]; 3. 21T-Ray Allen Kulhanek[2]; 4. 35-Greg Rilat[1]; 5. 23-Seth Bergman[11]; 6. 5h-Logan Forler[5]; 7. 14-Michael Lang[4]; 8. 17-Kent Lewis Jr[8]; 9. 31-Brandon Berryman[13]; 10. 10-George White[12]; 11. 25M-Michael McNeil[18]; 12. 11-Justin Melton[17]; 13. 51s-Beau Smith[10]; 14. 74E-Claud Estes III[14]; 15. 19-Klint Angelette[19]; 16. 7m-Kevin Ramey[15]; 17. 3-Gary Watson[20]; DNF 15T-Travis Elliott[9]; DNF 88-Scottie McDonald[3]; DNF 30-Brandon Corn[16]
Lap Leaders: Kulhanek 1-17, Reutzel 18-30
B Feature 1 (12 Laps): 1. 7m-Kevin Ramey; 2. 11-Justin Melton; 3. 19-Klint Angelette; 4. 93-Chris Sweeney; 5. 2-Wes Miller; 6. 69-Larry Howery; 7. 12B-Logan Bledsoe; 8. 02-Harry Yarrington; 9. 25h-Trey Schmidt
*top 3 advance to A Feature
B Feature 2 (12 Laps): 1. 30-Brandon Corn; 2. 25M-Michael McNeil; 3. 3-Gary Watson; 4. 8-Bruce Crockett; 5. 28-Richard Cooper; 6. 24-Brandie Jass; 7. 15-Andrew VanBlarcum; 8. 52-Roger Oakes; DNS 7W-Dustin Welch
*top 3 advance to A Feature
Heat 1 (8 Laps): 1. 88-Scottie McDonald; 2. 17-Kent Lewis Jr; 3. 14-Michael Lang; 4. 52-Roger Oakes; 5. 19-Klint Angelette; 6. 12B-Logan Bledsoe; 7. 02-Harry Yarrington; 8. 15-Andrew VanBlarcum
Heat 2 (8 Laps): 1. 87-Aaron Reutzel; 2. 15T-Travis Elliott; 3. 23-Seth Bergman; 4. 31-Brandon Berryman; 5. 7m-Kevin Ramey; 6. 2-Wes Miller; 7. 93-Chris Sweeney; 8. 69-Larry Howery
Heat 3 (8 Laps): 1. 18-Tony Bruce Jr; 2. 5h-Logan Forler; 3. 74E-Claud Estes III; 4. 11-Justin Melton; 5. 3-Gary Watson; 6. 25M-Michael McNeil; 7. 24-Brandie Jass; 8. 25h-Trey Schmidt
Heat 4 (8 Laps): 1. 35-Greg Rilat; 2. 21T-Ray Allen Kulhanek; 3. 10-George White; 4. 51s-Beau Smith; 5. 30-Brandon Corn; 6. 28-Richard Cooper; 7. 8-Bruce Crockett; 8. 7W-Dustin Welch
---
Article Credit: Cody Morris
Submitted By: Shelbey Reutzel
Back to News