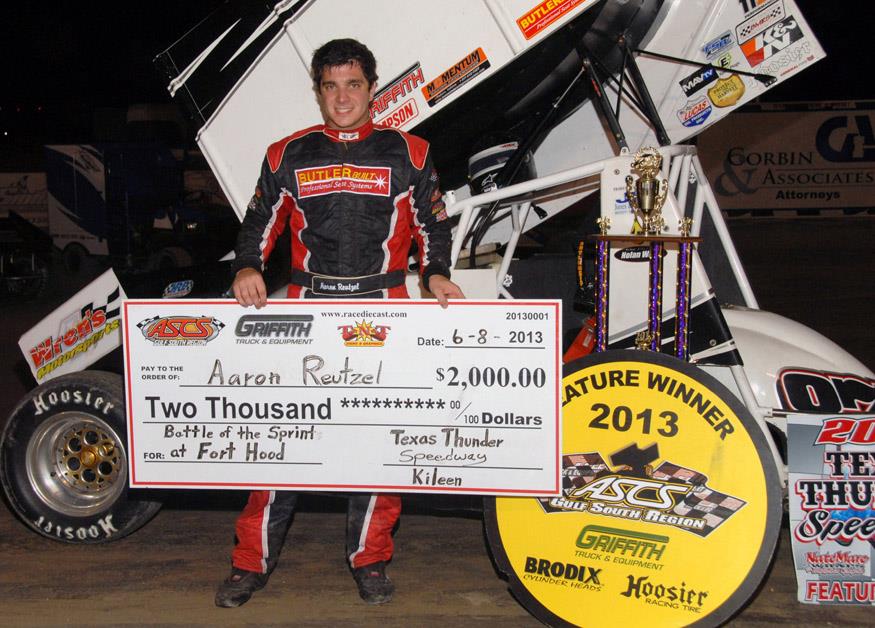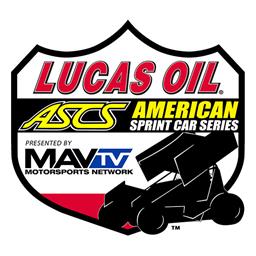 ---
Reutzel rebounds at Texas Thunder Speedway
Bryan Hulbert - KILLEEN, Texas (June 8, 2013) The final appearance of the Griffith Truck and Equipment Gulf South Region at the soon to close Texas Thunder Speedway saw Aaron Reutzel park his Momentum Suspensions No. 87 in victory lane.
Reutzel grabbed the race lead on the third round from Beau Smith at the tricky quarter-mile and held off the hard charging Logan Forler for his fourth victory of 2013, and twelfth overall with the Gulf South Region.
Grabbing the race lead on Lap 4 to find the caution flying, Channin Tankersley ended up third with Beau Smith and Klint Angelette completing the top five. Blake Hahn crossed sixth with Ray Allen Kulhanek clawing to seventh after falling off the track on Lap 5 and having to drop to the tail of the field. Michael Lang, Brandon Berryman, and Travis Elliot made up the top ten.
Griffith Truck and Equipment Gulf South Region
Texas Thunder Speedway - Killeen, Texas
Saturday, June 8, 2013
Car Count: 23
Heat 1 (8 Laps): 1. 19-Klint Angelette; 2. 52-Roger Oakes; 3. 51-Beau Smith; 4. 12M-Kolt Walker; 5. 21T-Ray Allen Kulhanek; 6. 69-Larry Howery; 7. 17T-Bruce Griffith Jr; 8. 92-Harry Yerrington
Heat 2 (8 Laps): 1. 71-Channin Tankersley; 2. 17-Blake Hahn; 3. 17X-Josh Baughman; 4. 2L-Logan Forler; 5. 28-Tommy Bryant; 6. 14-Michael Lang; 7. 66-J.J. Simmons; 8. 24-Brandie Jass
Heat 3 (8 Laps): 1. 31-Brandon Berryman; 2. 87-Aaron Reutzel; 3. 17W-Cole Wood; 4. 54-Evan Pardo; 5. 15T-Travis Elliott; 6. 15-Andrew VanBlarcum; DNS 7W-Dustin Welch
B Feature (12 Laps): 1. 15T-Travis Elliott; 2. 28-Tommy Bryant; 3. 66-J.J. Simmons; 4. 69-Larry Howery; 5. 24-Brandie Jass; 6. 15-Andrew VanBlarcum; 7. 17T-Bruce Griffith Jr; 8. 92-Harry Yerrington; DNS 7W-Dustin Welch
A Feature (25 Laps): 1. 87-Aaron Reutzel; 2. 2L-Logan Forler; 3. 71-Channin Tankersley; 4. 51-Beau Smith; 5. 19-Klint Angelette; 6. 21T-Ray Allen Kulhanek; 7. 17-Blake Hahn; 8. 14-Michael Lang; 9. 31-Brandon Berryman; 10. 15T-Travis Elliott; 11. 69-Larry Howery; 12. 17W-Cole Wood; 13. 66-J.J. Simmons; 14. 17X-Josh Baughman; 15. 15-Andrew VanBlarcum; 16. 24-Brandie Jass; 17. 52-Roger Oakes; DNF 54-Evan Pardo; DNF 28-Tommy Bryant; DNF 12M-Kolt Walker
Lap Leader(s): Beau Smith (1-2), Aaron Reutzel (3-25)
Photo Credit: Tom Meredith (NSSN)
---
Submitted By: Bryan Hulbert
Back to News