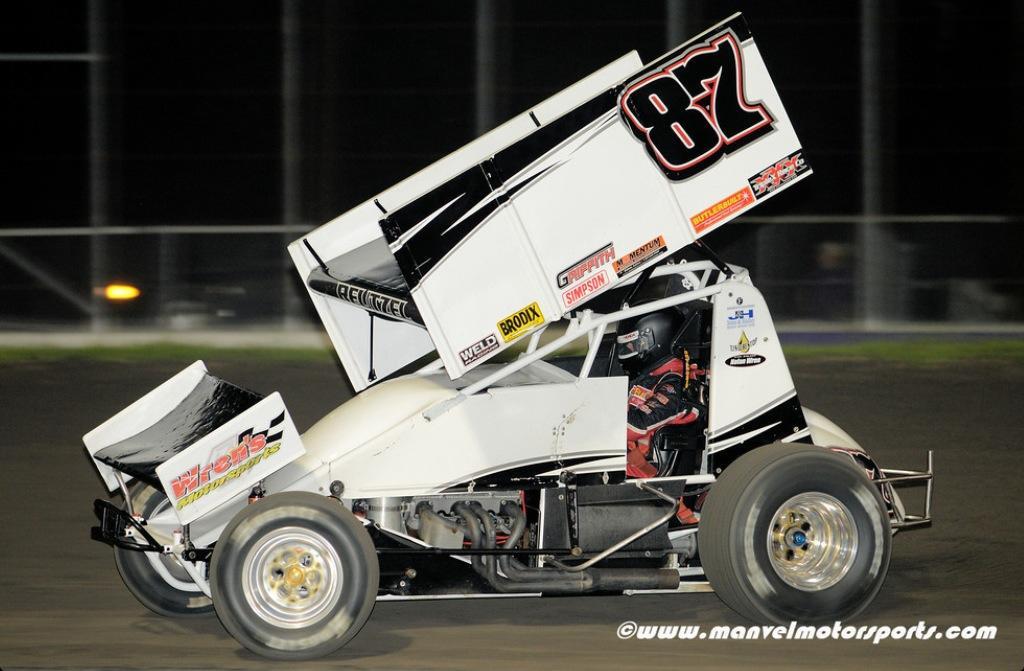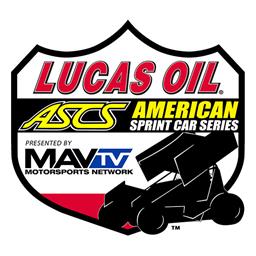 ---
Reutzel prevails at Texana
Bryan Hulbert - EDNA, Texas (July 5, 2013) When the dust settled at the Texana Raceway Park, it was Aaron Reutzel picking up his fifth Griffith Truck and Equipment Gulf South Regional win of 2013, leading only the final five laps of the night's 25 lap feature event.
Drawing the front row, Blake Hahn jumped to the point for the first four rounds. Surrendering the lead to Channin Tankersley for a pair of laps, Hahn raced back to the lead on Lap 7 and set the pace until Lap 19.
The following lap scored the No. 87 of Reutzel out front where the Clute, Texas driver would remain. Channin Tankersley worked to second with Hahn slipping to the final step on the podium. Ray Allen Kulhanek and Travis Elliot made up the top five with Michael Lang, Ryan Beechler, Beau Smith, Klint Angelette, and J.J. Simmons rounded out the top ten.
Reutzel's win has brought the race for the Griffith Truck and Equipment Gulf South Regional championship to 17 markers behind Ray Allen Kulhanek.
The Griffith Truck and Equipment Gulf South Region returns to competition on Saturday, July 6 at the Battleground Speedway in Highlands, Texas.
Griffith Truck and Equipment Gulf South Region
Texana Raceway Park - Edna, Texas
Friday, July 5, 2013
Car Count: 19
Heat 1 (8 Laps): 1. 87-Aaron Reutzel; 2. 14-Michael Lang; 3. 15T-Travis Elliott; 4. 51-Beau Smith; 5. 19-Klint Angelette; 6. 88-Scottie McDonald; 7. 92-Harry Yerrington
Heat 2 (8 Laps): 1. 31-Brandon Berryman; 2. 71-Channin Tankersley; 3. 66-J.J. Simmons; 4. 6-Ryan Beechler; 5. 17T-Bruce Griffith Jr; 6. 35-Greg Rilat
Heat 3 (8 Laps): 1. 21T-Ray Allen Kulhanek; 2. 5X-Tyson Hall; 3. 17-Blake Hahn; 4. 69-Larry Howery; 5. 24-Brandie Jass; 6. 15-Andrew VanBlarcum
A Feature (25 Laps): 1. 87-Aaron Reutzel; 2. 71-Channin Tankersley; 3. 17-Blake Hahn; 4. 21T-Ray Allen Kulhanek; 5. 15T-Travis Elliott; 6. 14-Michael Lang; 7. 6-Ryan Beechler; 8. 51-Beau Smith; 9. 19-Klint Angelette; 10. 66-J.J. Simmons; 11. 35-Greg Rilat; 12. 69-Larry Howery; 13. 15-Andrew VanBlarcum; 14. 17T-Bruce Griffith Jr; 15. 24-Brandie Jass; 16. 5X-Tyson Hall; DNF 88-Scottie McDonald; DNF 31-Brandon Berryman; DNF 92-Harry Yerrington
Lap Leader(s): Blake Hahn (1-4, 7-19), Channin Tankersley (5-6), Aaron Reutzel (20-25)
Photo Credit: Manvel Motorsports
---
Submitted By: Bryan Hulbert
Back to News