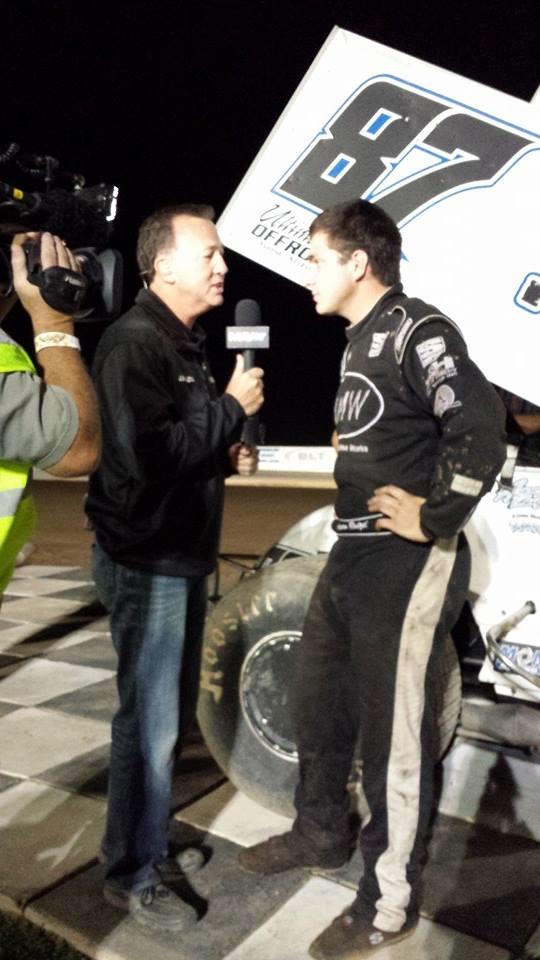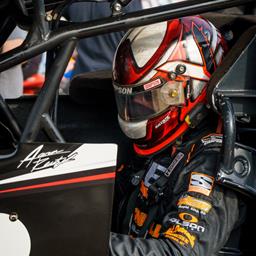 ---
Reutzel Finishes Strong with ASCS; Western World this Weekend!
Lonnie Wheatley, CLUTE, Texas (November 18, 2014) – Aaron Reutzel closed out his Lucas Oil ASCS National Tour campaign in fine form with another podium finish among a pair of top-ten runs in the series season-ending double at Cocopah Speedway near Yuma this past weekend.
And Friday's rousing 19th to third charge aboard the BC Fundz/Wren Motorsports No. 87 Triple X Sprint Car could have been improved upon Saturday night if night for a failed nose wing mount that held the Clute, TX, driver to an eighth-place finish rather than a possible ninth overall win of 2014.
With the winged season in the books, Reutzel switches gears and goes non-wing for the USAC Southwest vs. USAC West Coast Sprint Car portion of this weekend's 47th Annual Western World Championships at Canyon Speedway Park near Phoenix.
Riding a stretch of eight consecutive finishes of fourth or better entering Friday's Cocopah card, nine in a row seemed unlikely after Reutzel missed the cut from his heat race.
"I tried a big slider for second, I tried to cut it back down but Jason (Johnson) got by so we started and finished third," Reutzel explained. "And that put us in the B."
Transferring from the "B" Main, Reutzel gridded the feature field 19th aboard the Momentum Racing Suspensions/Danny Sander Construction/ButlerBuilt entry. And the show was on.
"It was the last two races and points weren't really a concern for us," Reutzel says. "I really wanted a shot at that $10,000 to win on Saturday night, so if I junked a car going for it I was okay with that."
The all-or-nothing approach paid dividends with Reutzel slicing through the field to earn a third place finish and lock into the Saturday night finale.
"We drove through there like it was nothing," Reutzel comments. "We were rolling really nice and got all the way up there with just one caution, we had to pass all those cars. The car was perfect, the track was great with a good top, good bottom and middle."
With a ninth-consecutive finish among the top four, Saturday looked even more promising for the Basic One Services/Lone Star Hydro Maintenance/Wright Way Logistics machine after Reutzel was quickest among the four locked-in cars in hot laps.
With $10,000 on the line, it was feature time.
"We got a lap in before the feature and the car was great, I thought we had this one for sure," Reutzel says.
But no sooner did the green flag drop did Reutzel's hopes dwindle away.
"The nose wing fell down on the frontstetch at the start, the back mounts broke," Reutzel says. "It was like having the top wing back all the way, it felt like I didn't even the front tires on the ground."
Reutzel struggled early on with the nose wing issues, dropping back in the field.
"It took me a while to figure out how to drive it like that, we finally got going some but it wasn't what it could have been."
Slipping as far back as 12th, Reutzel took advantage of a late restart to climb back up to eighth at the finish.
"It's really nice to see what you're capable of doing without engine problems," Reutzel said of late season rush that includes ten top-ten runs beginning with the Devil's Bowl Winter Nationals last month.
"It was a great way to finish our ASCS season and we're really looking forward to next year now knowing that our engine program is in good shape," Reutzel explains.
The 2014 season isn't quite done for Reutzel and crew though with a pair of big non-wing races to round out the season beginning with this weekend's Western World Championships.
"We're gonna give it a try, hopefully we get some slick tracks that we can do something on, that's where I always seem to go better without the wing," Reutzel concludes.
2014 Quick Stats: 62 races, 8 "A" Main wins, 32 top-fives, 42 top-tens.
Up Next: The USAC Southwest vs. USAC West Coast Sprint Cars at Canyon Speedway Park's 47th Annual Western World Championships in Peoria, AZ, this Thursday, Friday and Saturday.
Keep Track: Keep track of Aaron Reutzel's on-track action including schedule and results at http://www.aaronreutzelracing.com/, on Facebook at https://www.facebook.com/pages/Aaron-Reutzel-Racing/117666254913127 or on Twitter at @AaronReutzel. You can also e-mail Aaron at aaronreutzel@yahoo.com.
If you would like Aaron Reutzel Racing press releases e-mailed directly to you, send your e-mail address to Lonnie Wheatley at lonniewheatley@gmail.com.
Penning the recurring series of "The Wheatley Chronicles" articles on racinboys.com, Lonnie Wheatley provides media, public relations and more for select tracks, drivers and events. For more information, Wheatley may be contacted at lonniewheatley@gmail.com.
---
Article Credit: Lonnie Wheatley
Submitted By: Lonnie Wheatley
Back to News