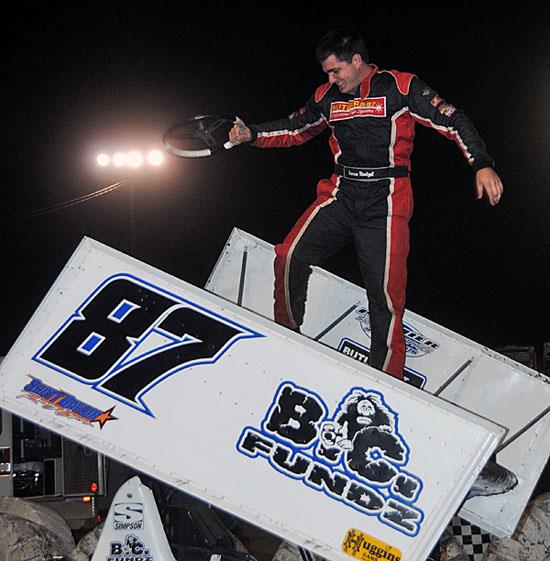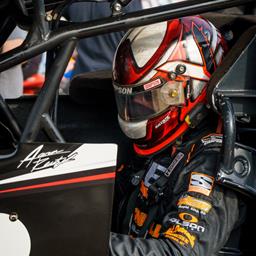 ---
Aaron Reutzel - Breaking Through in 2014
Lonnie Wheatley, CLUTE, Texas (December 19, 2014) – If the 2014 racing season didn't qualify under the vague category of "breakout" year for Aaron Reutzel, it was darn near close.
The Clute, TX, racer made his way to victory lane aboard the BC Fundz/Wren Motorsports No. 87 Triple X Sprint Car on nine different occasions, including first wins in both ASCS National action and wingless competition, while also ranking among the top-ten in ASCS National points.
In short, it was a season most racers would cause some serious injury to have.
And, the season that began with a strong rush and closed out with an even bigger charge could have been truly one for the ages had it not been for a mid-season stretch of bad luck.
"It was a roller coaster ride for sure," Reutzel says. "It was great at times, then there were some other times."
Overall, it could be deemed little else but a rousing success, as Reutzel and the Momentum Racing Suspensions/Danny Sander Construction/ButlerBuilt team quickly developed as a top threat to win any time they pulled through a pit gate.
"Our primary goal to begin the year was to win two National races and run top-five in ASCS National points," Reutzel says. "We ended up with four National wins, so we're okay with not finishing out among the top five."
Key among the year's nine wins was the first one, an April 12 score at Little Rock's I-30 Speedway. It was Reutzel's first triumph in ASCS National Tour action.
"Getting that first win definitely made the rest of the year a lot less stressful," Reutzel explains. "We had been pretty close before and something would always happen. When you haven't won, you don't if you can. Once we got that, all the pressure went away."
That initial National triumph opened the floodgates with Reutzel reeling off four more wins in his next six starts aboard the Basic One Services/Lone Star Hydro Maintenance/Wright Way Logistics entry.
Among those was another ASCS National win at Outlaw Motorsports Park near Muskogee, OK, on May 2 with other triumphs including another Wren Memorial win in ASCS Gulf South action at the Gator Motorplex on April 19 and a May 9-10 weekend sweep over ASCS Sooners at Creek County on a Friday night and then weekly action at I-30 Speedway the next night.
Working through the season with consistent good finishes, Reutzel reeled off 18 top-tens in a stretch of 19 starts from April 4 to June 20 before adding his sixth overall win of the year in NCRA vs. ASCS Sooner competition at Wichita's 81 Speedway on June 29.
A pair of Gulf South DNF's over Fourth of July weekend proved to be a harbinger of what was around the corner, even though Reutzel took another pair of ASCS National podium finishes at Billings and Rapid City into Knoxville's 360 Nationals.
Lady Luck turned her back on Reutzel and company over the next several weeks, with a fourth-place wingless run at Lawton on August 13 the highlight of an otherwise rough stretch.
"We just want to forget that part, we got it behind us," Reutzel says.
Reutzel and team did indeed, putting together a strong rally to seventh from deep in the field in I-80 Speedway's Fall Brawl to set up a strong stretch run.
And what a run it was, with no finish lower than eighth in the final nine nights of ASCS National action including seven podium finishes and two more wins with a runner-up wingless outing mixed in for good measure. Despite missing a pair of earlier events, Reutzel salvaged ninth in final ASCS National points with the rally down the stretch.
It all started with drives of fourth and then third at the Devil's Bowl Speedway Winter Nationals followed up by a Short Track Nationals to remember. After besting a field of 66 in the Wednesday night Short Track Nationals open, Reutzel missed his preliminary night victory by inches and then finished second in the STN finale to collect nearly $13,000 in winnings over the course of the weekend.
Reutzel carried on from there, clipping wings to run second at Arizona Speedway before a runner-up ASCS finish at El Paso preceded his fourth National win of the year and eighth overall the following night at Las Cruces.
After finishing off the ASCS season with a 19th-to-third run and then an eighth place finish at Yuma's Cocopah Speedway, Reutzel returned to Las Cruces' Southern New Mexico Speedway where he recorded another first.
This 'first' was his first career win in non-wing Sprint Car action on the opening night of the track's $10,000-to-win Thanksgiving Bash.
"It was a lot like getting my first ASCS National win, the pressure was off after I got that first wingless win," Reutzel says. "The next night just seemed so much easier. We lost a tire at the end, but we'll get more."
Sixty-six nights of racing at 33 different tracks throughout 13 different states, it was a roller coaster season indeed. And with a lot more highs than lows, it wasn't a bad roller coaster to have been on.
2014 Quick Stats: 66 races, 9 "A" Main wins, 33 top-fives, 43 top-tens.
Up Next: "Winter Heat" Winged 410-ci Sprint Car action at Cocopah Speedway near Yuma, AZ, on January 2-3, 6, 9-10.
Keep Track: Keep track of Aaron Reutzel's on-track action including schedule and results at http://www.aaronreutzelracing.com/, on Facebook at https://www.facebook.com/pages/Aaron-Reutzel-Racing/117666254913127 or on Twitter at @AaronReutzel. You can also e-mail Aaron at aaronreutzel@yahoo.com.
If you would like Aaron Reutzel Racing press releases e-mailed directly to you, send your e-mail address to Lonnie Wheatley at lonniewheatley@gmail.com.
Penning the recurring series of "The Wheatley Chronicles" articles on racinboys.com, Lonnie Wheatley provides media, public relations and more for select tracks, drivers and events. For more information, Wheatley may be contacted at lonniewheatley@gmail.com.
---
Article Credit: Lonnie Wheatley
Submitted By: Lonnie Wheatley
Back to News