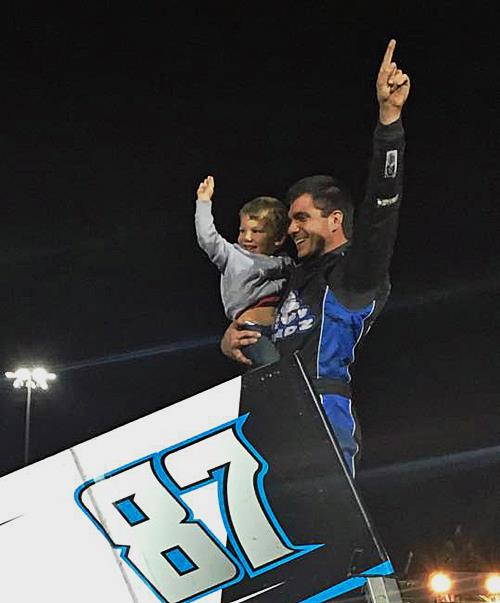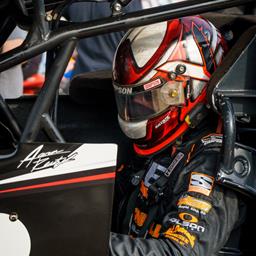 ---
Reutzel Takes Momentum to Missouri
Lonnie Wheatley, CLUTE, Texas (September 15, 2016) – The deeper into the season it gets, the more momentum Aaron Reutzel seems to be gaining.
Over the past two weekends, Reutzel has added another signature win with a $10,000 Jackson Nationals triumph aboard the Dissolvalloy Downhole Revolution/BC Fundz No. 87 Triple-X Sprint Car and then posted an NSA Shootout runner-up finish this past weekend in Shane Liebig's No. 55 Sprint Car.
It's momentum that the reigning Lucas Oil ASCS National champion from Clute, TX, looks to carry into this weekend's ASCS Warrior Region double at Kansas City's Lakeside Speedway on Friday and then Sedalia's historic half-mile on Saturday before National Tour action resumes next weekend at Wheatland's Lucas Oil Speedway.
"It has been a good couple of weeks, things have been really clicking with our new crew guy J.J. on board," Reutzel commented.
The month of September kicked off with double-duty for Reutzel at Minnesota's Jackson Nationals.
The ASCS portion proved profitable, though Reutzel had to work for it in the Wren Motorsports/Momentum Racing Suspensions machine after Friday issues.
Friday looked promising for a while though, with Reutzel racing from 15th all the way up to sixth in short order. "I was sure we were gonna get to the top four and lock in, then we blew a power steering hose," Reutzel explained.
Reutzel had to race his way into the Sunday finale and started the feature from 14th aboard the Danny Sander Construction/ButlerBuilt machine.
"The car was perfect," Reutzel summed up.
Reutzel raced through the pack and found himself sitting third on a late restart.
"I had watched what they (Ian Madsen and Kerry Madsen) were doing, so I committed to the top," Reutzel explains. "They both did the same thing on the restart. I had an open lane and passed Kerry in one and two and then slid Ian in three and four."
Reutzel rolled on to his sixth overall win of the year, this one worth $10,000.
Reutzel was strong aboard Liebig's No. 55L in the NSL 410-ci portion of the Jackson Nationals as well with a ninth-place finish in the Saturday night, September 3, prelim and a 14th-place run in the Sunday finale.
After winning Saturday's "B" Main from fourth, Reutzel rallied from the 21st starting position. "We were up to ninth and then it laid rubber," Reutzel says. "There was still ten laps to go, we probably could have got up to fifth."
On Sunday night, a stumble in the engine proved problematic.
"We couldn't get good restarts, the restarts were killing us," Reutzel says.
After an early spin, Reutzel made the most of it by salvaging a 14th-place finish.
From there, Reutzel made his return to Billings Motorsports Park for last weekend's $7,500-to-win NSA Shootout. Reutzel had taken $10,000 from the Billings oval earlier this year.
Unfortunately, track conditions differed this time around.
"It wasn't the track that it usually is," Reutzel relates.
After a strong qualifying effort in Friday's prelim, a one-lane track in the heats put Reutzel one position outside of the redraw.
Starting seventh, Reutzel worked his way up to second at one point before settling for third.
"I got to second then I missed my line one time and let Danny (Lasoski) get back by," Reutzel recalls.
After winning his Saturday night heat race, Reutzel started the $7,500-to-win NSA Shootout feature inside the second row.
But track conditions made much movement difficult.
"It rubbered up on lap one," Reutzel says. "I got by Sammy (Swindell) for second right away. I got to Danny, I'm not sure if he heard me or what, but he moved down. We pretty much just rode around the rest of the way after that."
The runner-up finish still made for a lucrative weekend. And it wasn't over when a spur-of-the moment plane trip early Sunday had Reutzel en route to Badlands Motor Speedway near Sioux Falls where the Wright Way Logistics/Walker Performance Filtration No. 87 machine was waiting.
After advancing from sixth to third in his heat race, Reutzel gridded the feature outside the third row.
"We tried a couple of things that we've been wanting to do," Reutzel recalls. "We learned not to do those things, we were horrible."
Even with the missed setup, Reutzel held his ground to finish out the weekend with a solid sixth-place run.
A weekend of ASCS Warrior Regional action awaits Reutzel and the No. 87 Sprint Car as he makes his first Lakeside start since a seventh-place run earlier this year before shifting to Sedalia on Saturday night. An 11th-place finisher at Sedalia earlier this year, Reutzel claimed a $10,000 win atop the storied half-mile last year.
2016 Quick Stats: 80 races, 6 wins, 24 top-fives, 38 top-tens.
Up Next:
Friday – ASCS Warrior Region at Lakeside Speedway in Kansas City, KS.
Saturday – ASCS Warrior Region at the Missouri State Fairgrounds Speedway in Sedalia, MO.
Keep Track: Keep track of Aaron Reutzel's on-track action including schedule and results at http://www.aaronreutzelracing.com/, on Facebook at https://www.facebook.com/pages/Aaron-Reutzel-Racing/117666254913127 or on Twitter at @AaronReutzel. You can also e-mail Aaron at aaronreutzel@yahoo.com.
If you would like Aaron Reutzel Racing press releases e-mailed directly to you, send your e-mail address to Lonnie Wheatley at lonniewheatley@gmail.com.
Penning the recurring series of "The Wheatley Chronicles" articles on www.sprintcarmania.com, Lonnie Wheatley provides media, public relations and more for select tracks, drivers and events. For more information, Wheatley may be contacted at lonniewheatley@gmail.com.
---
Article Credit: Lonnie Wheatley
Back to News