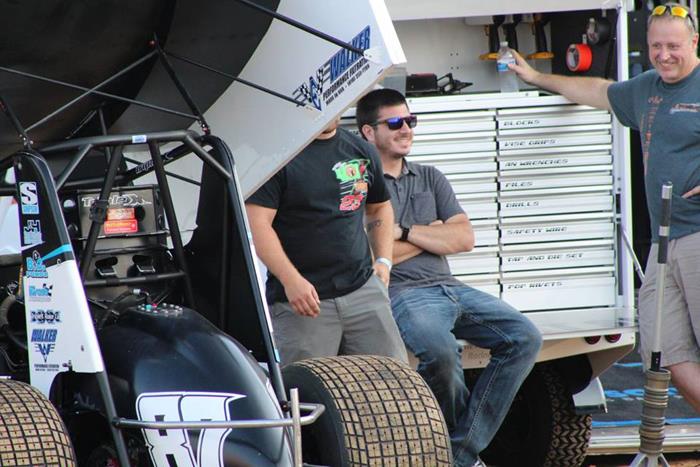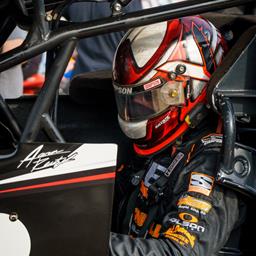 ---
Reutzel Ready for Short Track Nationals after Trophy Cup Top Ten
Lonnie Wheatley, CLUTE, Texas (November 3, 2016) – Back-to-back marquee events is what Aaron Reutzel is in the midst of.
After posting a top-ten effort in his first Trophy Cup outing less than two weeks ago, Reutzel has his sights set on this weekend's $15,000 winner's share at I-30 Speedway's COMP Cams Short Track Nationals presented by Hoosier Tires in Little Rock, AR.
It's an event he finished second at in 2014 and then won last year's Short Track Open before the balance of the event was rained out. He also captured his first career ASCS National win atop the high-banked ¼-mile clay oval in 2014.
"It's a place that has been good for us," the driver of the Dissolvalloy Downhole Revolution/BC Fundz No. 87 Triple-X Sprint Car said. "You have to be good and you have to have a little bit of luck on your side to win Short Track, hopefully things will all fall into place for us this weekend."
Reutzel and the Wren Motorsports/Momentum Racing Suspensions team enter the weekend looking to add to his total of seven feature wins on the 2016 season thus far. Preliminary action takes place on Thursday and Friday night before the big money is on the line in Saturday night's finale.
The driver of the Danny Sander Construction/ButlerBuilt mount comes off his first Trophy Cup outing at Tulare, California's Thunderbowl Raceway just two weekends ago.
With 60 cars in the field for the $13,000-to-win event, Reutzel joined forces with the Cobble Hill, British Columbia, No. 21p team of Randy and Robbie Price and came away with an eighth-place finish in the final rundown.
"It's a cool format, it's something I'll be more prepared for the next time I go," Reutzel said of the points-based event. "There's no finesse to it at all, it's just balls out and if you wreck, you just give it another try next year."
Reutzel was introduced to the unique format for the first time in an unfamiliar car as well.
"It took us a little time to get everything figured out, but we got things going," Reutzel relates.
The first Trophy Cup night on Thursday, October 20, started slowly for Reutzel.
"We didn't qualify well, it just took a little bit to figure out the car," Reutzel says.
Reutzel got rolling in the "B" Main, rallying from 14th to challenging position for a top-four transfer position.
"We took the transfer and then a caution came out," Reutzel recalls. "The right rear had a little hole in it. The car got way too tight then and we fall back two or three spots before the car got going again, it was too late then though."
The Friday portion got off to strong start with a good qualifying effort and then a heat race win.
"We were sitting good going into the 'A'," Reutzel says.
"I watched the 'B' and it was slicking off so I went back to tighten it up for the feature," Reutzel says. "I didn't hear them reworking the track. We went out and were way too tight, I was just hanging on."
Reutzel 'held on' for a sixth-place finish, good enough to put him in a solid position going into Saturday's finale. And after earning the eighth-starting position in the inverted 50-lapper on October 22, Reutzel was set for his first Trophy Cup finale.
"We just couldn't get going in the beginning," Reutzel says. "We fell back to mid-pack, then with about 15 to go we came back from 14th to seventh."
While a late restart cost Reutzel a pair of positions in the final rundown, a ninth-place finish in the Saturday finale put him eighth in the overall weekend rundown.
"I definitely want to go back to it, I'll be more prepared for it next time," Reutzel said after his first Trophy Cup with Randy and Robbie Price.
For now though, Reutzel and the Wright Way Logistics/Walker Performance Filtration team set their sights on Tracey Clay's $15,000 winner's share at I-30 Speedway this weekend.
And it all begins tonight.
2016 Quick Stats: 92 races, 7 wins, 29 top-fives, 46 top-tens.
Up Next: Twenty-ninth Annual COMP Cams Short Track Nationals presented by Hoosier Tires at I-30 Speedway in Little Rock, AR, on Thursday, Friday and Saturday.
Keep Track: Keep track of Aaron Reutzel's on-track action including schedule and results at http://www.aaronreutzelracing.com/, on Facebook at https://www.facebook.com/pages/Aaron-Reutzel-Racing/117666254913127 or on Twitter at @AaronReutzel. You can also e-mail Aaron at aaronreutzel@yahoo.com.
If you would like Aaron Reutzel Racing press releases e-mailed directly to you, send your e-mail address to Lonnie Wheatley at lonniewheatley@gmail.com.
Penning the recurring series of "The Wheatley Chronicles" articles on www.sprintcarmania.com, Lonnie Wheatley provides media, public relations and more for select tracks, drivers and events. For more information, Wheatley may be contacted at lonniewheatley@gmail.com.
(Brandon Young photo)
---
Article Credit: Lonnie Wheatley
Back to News