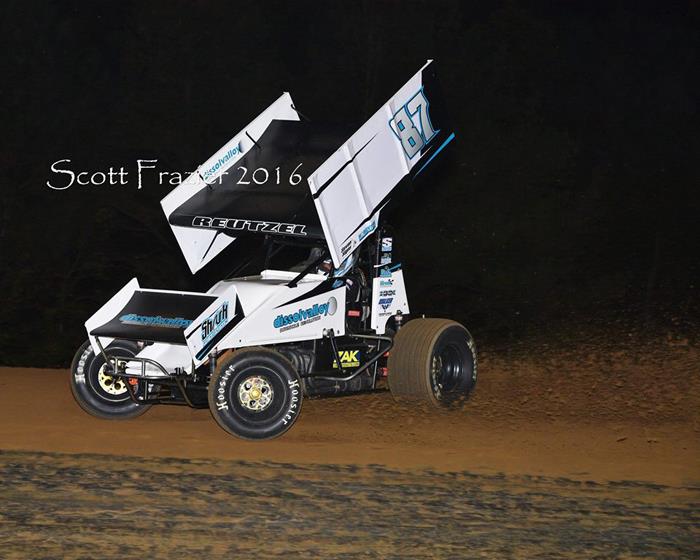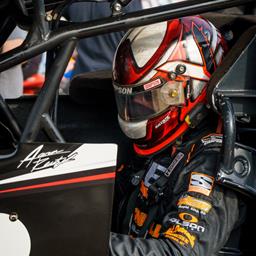 ---
Reutzel Set for ASCS Finale after another STN Feature
Lonnie Wheatley, CLUTE, Texas (November 11, 2016) – Coming off the heels of his third career Short Track Nationals championship feature start at Little Rock's I-30 Speedway, Aaron Reutzel and the Dissolvalloy Downhole Revolution/BC Fundz No. 87 Triple-X Sprint Car team finish off the 2016 Lucas Oil ASCS National Tour this weekend at Cocopah Speedway near Yuma, AZ.
It's a site that Reutzel has enjoyed past success at, including his first 410-ci Sprint Car triumph early last year.
"We have always been fast there, whether it's in a 360 or a 410," Reutzel says. "Hopefully we can keep things going this weekend."
Reutzel and the Wren Motorsports/Momentum Racing Suspensions team come off a three-night weekend of racing action in Little Rock, AR. After a fifth-place finish in Thursday's Short Track Nationals preliminary action, Reutzel raced his way into Saturday's $15,000-to-win, 20-car feature field among a rugged field of 64 competitors and ultimately was credited with a 16th-place finish after exiting the track just a few laps shy of the checkered flag.
"It was a little rough for us this year, we just weren't in the right place at the right time," Reutzel said after entering the event with high hopes. "It just wasn't our year."
"Still, we put it in the show and made a little money," Reutzel said of the $2,000-to-start STN finale. "And we didn't tear stuff up, that's always a positive."
Reutzel ran near the front aboard the Danny Sander Construction/ButlerBuilt mount throughout all of Thursday night's feature.
"I just couldn't get by Zach (Pringle) to save my life," Reutzel says. "I had one shot at him, then Jason (Johnson) got a run off the bottom and I about got sandwiched into the wall. We just couldn't quite get going enough."
With a fifth-place Thursday finish putting Reutzel in good points position, Friday proved challenging.
"Friday night was just awful for us," Reutzel says. "I hadn't seen that track get that slick, we needed to get a little crazier with tightening the car up."
Reutzel bounced back on Saturday night with an STN Showdown win to earn the 11th starting position for the STN championship feature event in the Wright Way Logistics/Walker Performance Filtration entry.
And he was on the move in the early going.
"I got by Shane (Stewart) and then made one mistake that basically put us out of the race," Reutzel said of an excursion off the top of turn three in the early portion of the 40-lapper. Reutzel ultimately pulled pitside and was credited with a 16th place finish in his third career Short Track Nationals championship feature start.
"We had a good car on Saturday, one little mistake is all it takes to let that race get away," Reutzel relates.
Now, Reutzel and crew look to finish off the Lucas Oil ASCS National Tour campaign on a strong note in Arizona this weekend.
"Hopefully we're fast out of the box on night one and get the win," Reutzel says. "If we can do that, then we're in position to win on the second night."
2016 Quick Stats: 95 races, 7 wins, 30 top-fives, 47 top-tens.
Up Next: Lucas Oil ASCS National Tour at Cocopah Speedway near Yuma, AZ, on Friday and Saturday.
Keep Track: Keep track of Aaron Reutzel's on-track action including schedule and results at http://www.aaronreutzelracing.com/, on Facebook at https://www.facebook.com/pages/Aaron-Reutzel-Racing/117666254913127 or on Twitter at @AaronReutzel. You can also e-mail Aaron at aaronreutzel@yahoo.com.
If you would like Aaron Reutzel Racing press releases e-mailed directly to you, send your e-mail address to Lonnie Wheatley at lonniewheatley@gmail.com.
Penning the recurring series of "The Wheatley Chronicles" articles on www.sprintcarmania.com, Lonnie Wheatley provides media, public relations and more for select tracks, drivers and events. For more information, Wheatley may be contacted at lonniewheatley@gmail.com.
(Photo courtesy of Scott Frazier)
---
Article Credit: Lonnie Wheatley
Back to News