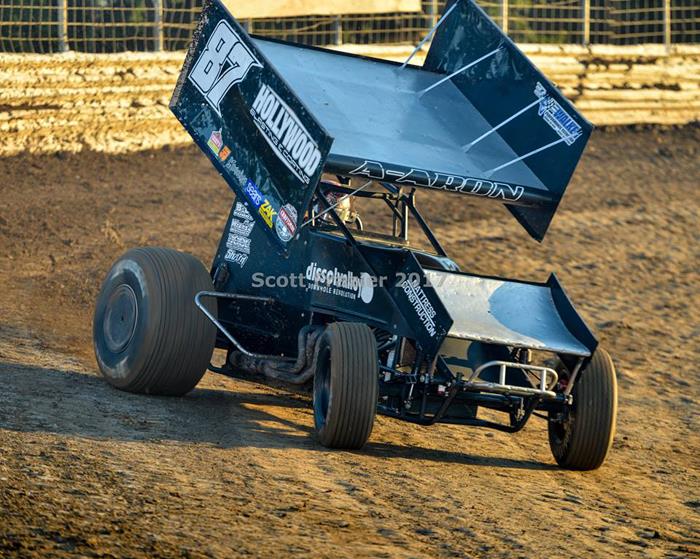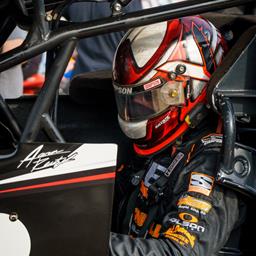 ---
Reutzel Rolls on to I-80's Fall Brawl
Lonnie Wheatley, CLUTE, Texas (September 28, 2017) – Holding down a solid second position in Lucas Oil ASCS National Tour points, Aaron Reutzel and the Dissolvalloy Downhole Revolution/BC Fundz No. 87 Triple-X Sprint Car team continue action with Saturday night's Midwest Fall Brawl at Greenwood, Nebraska's I-80 Speedway.
Reutzel and crew venture into Nebraska following last weekend's Jesse Hockett/Daniel McMillin Memorial at Wheatland, Missouri's Lucas Oil Speedway. It was a three-night tilt that started in promising fashion with a strong Thursday night run before mechanical woes cut both of the following two nights short.
Reutzel and the Wren Motorsports/Momentum Racing Suspensions team were fast out of the box at Lucas Oil Speedway with a heat race win and then a drive from fourth to second in qualifying race action to earn the front row outside for the Thursday night preliminary feature.
Reutzel paced the field much of the way before settling for runner-up honors at the line.
"The top was going away and I saw Sammy (Swindell) poke his nose under me," Reutzel explains. "I went down and looked for the rubber but it wasn't there yet. Then he stuck the bottom and drove by me."
Reutzel wasn't done in the Nattress Construction/Wings Unlimited mount though, as he tried to mount one last rally for the win.
"I was trying to pass him back and the caution came out," Reutzel relates. "Then the rubber came in and it was done."
It was one that Reutzel felt got away. "Leading early cost us in that one," Reutzel says.
Friday's card started with Reutzel racing from seventh to third in heat race action aboard the Wright Way Logistics/Walker Performance machine before a fifth-place finish in the qualifier. "It was a little one-lane for the qualifier, so we couldn't really go anywhere."
Gridding the feature 12th, Reutzel was on the move as he cracked the top five before mechanical issues forced him pitside.
Accumulating enough points over the Thursday and Friday prelims to earn the seventh starting position for Saturday's Hockett/McMillin Memorial finale, Reutzel was dicing for fourth in short order before mechanical gremlins stepped in again.
"We had a good car, I think we had a shot at it," Reutzel said.
Reutzel looks for the checkered flag next on Saturday night with a $5,000 winner's share on the line for Saturday's Midwest Fall Brawl in Nebraska.
2017 Quick Stats: 69 races, 6 wins, 24 top-fives, 37 top-tens.
Up Next: Lucas Oil ASCS National Tour Midwest Fall Brawl at Greenwood, Nebraska's I-80 Speedway on Saturday night.
Keep Track: Keep track of Aaron Reutzel's on-track action including schedule and results at http://www.aaronreutzelracing.com/, on Facebook at https://www.facebook.com/pages/Aaron-Reutzel-Racing/117666254913127 or on Twitter at @AaronReutzel. You can also e-mail Aaron at aaronreutzel@yahoo.com.
If you would like Aaron Reutzel Racing press releases e-mailed directly to you, send your e-mail address to Lonnie Wheatley at lonniewheatley@gmail.com.
Penning the recurring series of "The Wheatley Chronicles" articles on www.sprintcarmania.com, Lonnie Wheatley provides media, public relations and more for select tracks, drivers and events. For more information, Wheatley may be contacted at lonniewheatley@gmail.com.
---
Article Credit: Lonnie Wheatley
Back to News