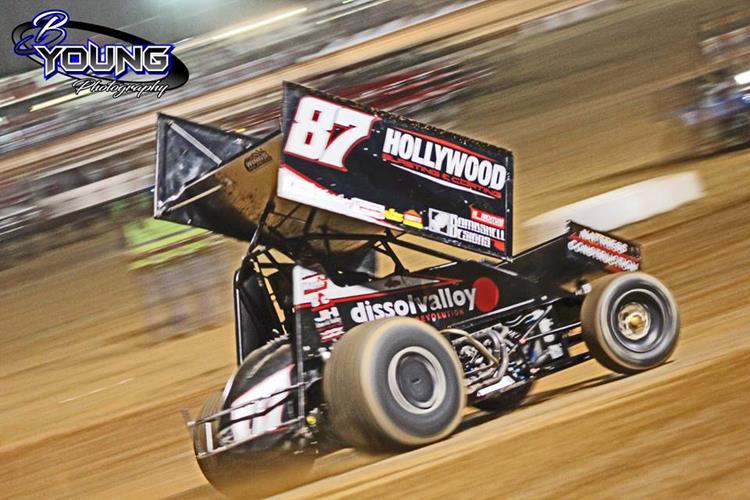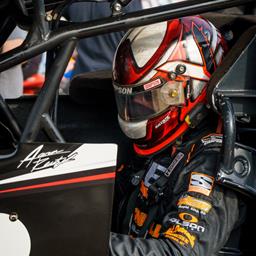 ---
Reutzel Ready for Devil's Bowl after STN Podium
Lonnie Wheatley, CLUTE, Texas (October 20, 2017) – Action continues for Aaron Reutzel and the Dissolvalloy Downhole Revolution/BC Fundz No. 87 Triple-X Sprint Car team at the Devil's Bowl Speedway Winter Nationals after a pair of podium weekends.
Following a third-place run in his first Colorado start on October 8, Reutzel earned a third-place finish in last weekend's Short Track Nationals finale at Little Rock's I-30 Speedway after finishes of fourth and third in the preliminary feature events.
"We had a really good car all weekend," Reutzel said of the Wren Motorsports/Momentum Racing Suspensions entry at the Short Track Nationals. "To be able to run near the front each night against that caliber of cars says a lot about this team, Sammy (Swindell) was just a little better."
Reutzel ventured to Little Rock last week after posting a third-place Lucas Oil ASCS National Tour finish in his first visit to Calhan, Colorado's El Paso County Raceway the previous weekend. After a Friday night, October 6, rainout, the weekend was reduced to a single-night affair.
"The real challenge was the air, it was the worst I've ever seen," Reutzel said of the Rocky Mountain facility. "We kept working on it and finally got it decent in the feature."
After slipping to third in the early going, Reutzel reeled in the lead duo of Sam Hafertepe, Jr., and Jake Bubak.
"I got to them and really only had one shot," Reutzel relates. "I tried to slide Bubak one time but couldn't make it stick. We had a good car but settled for third."
Next up was a field of more than 70 Sprint Cars at I-30 Speedway's Short Track Nationals in Little Rock, AR. After a fourth-place finish in the Thursday's opener, Reutzel locked into his third consecutive STN championship feature with a third-place Friday night run and then earned his second career Short Track Nationals podium finish with another third-place finish in Saturday night's $15,000-to-win finale.
After kicking off his week with a heat race win aboard the Nattress Construction/Wings Unlimited machine on Thursday night, Reutzel rebounded from a spin to post a third-place qualifying race finish. "We had a really good car, I just kept making some mistakes," Reutzel explained.
Gridding Thursday's feature seventh, Reutzel raced forward to third in short order. "We were really good early, but the car started fading late," Reutzel relates. "I went into block mode and that allowed Tony Bruce, Jr., to get by right at the end."
Missing the lock-in by mere inches, Reutzel started fresh on Friday with a runner-up heat race finish and third-place qualifying race run to earn the front row outside starting position for the feature.
"We had a really good car all night, and we were good in the A Main again," Reutzel said.
After an early duel with Sam Hafertepe, Jr., for the point, Reutzel ultimately settled for a third-place finish that secured him a position in the Saturday night finale.
"I raced pretty careful early, I wanted to make sure that I didn't take Sam (Hafertepe, Jr.) or myself out," Reutzel explains. "Then (Tim) Crawley got really good on the bottom so I moved down to protect my position. I lost third the night before, so I wasn't going to let that happen again."
Saturday got off to a rough start when Reutzel got upside down in hot laps prior to the Pole Dash for Cash. "We broke an axle, I'm just thankful it happened when it did instead of in the race," Reutzel said. "My guys did an incredible job of getting the car ready in time for the Dash."
Reutzel made the most of it, drawing the pole position and racing on to the Dash win to secure the pole position for the 40-lap feature event aboard the Wright Way Logistics/Walker Performance entry.
The battle with Crawley for the lead in the opening pair of corners opened the door for a Sammy Swindell moved into the lead.
"We had a good pace early, but the line he (Swindell) was running was messing up my line," Reutzel explains. "Then I biked it on the cushion and that let Sam (Hafertepe, Jr.) get by."
Reutzel kept the pressure on throughout the race before settling for a solid third-place payday.
"The line Sam was running was blocking my line too," Reutzel says. "If I don't make that one mistake, I think we were easily a second-place car. I'm about 90% sure that Sammy had a little more if we had got to him."
With another successful Short Track Nationals run in the books, Reutzel takes to the storied ½-mile Devil's Bowl Speedway clay oval for this weekend's Lucas Oil ASCS National Tour double on Friday and Saturday.
"We just have to hope things fall into place, the draw can be pretty huge at Devil's Bowl," Reutzel says.
Reutzel has finishes of sixth and fourth earlier this year at Devil's Bowl.
2017 Quick Stats: 74 races, 6 wins, 28 top-fives, 41 top-tens.
Up Next: Lucas Oil ASCS National Tour Devil's Bowl Speedway in Mesquite, TX, on Friday and Saturday.
Keep Track: Keep track of Aaron Reutzel's on-track action including schedule and results at http://www.aaronreutzelracing.com/, on Facebook at https://www.facebook.com/pages/Aaron-Reutzel-Racing/117666254913127 or on Twitter at @AaronReutzel. You can also e-mail Aaron at aaronreutzel@yahoo.com.
If you would like Aaron Reutzel Racing press releases e-mailed directly to you, send your e-mail address to Lonnie Wheatley at lonniewheatley@gmail.com.
Penning the recurring series of "The Wheatley Chronicles" articles on www.sprintcarmania.com, Lonnie Wheatley provides media, public relations and more for select tracks, drivers and events. For more information, Wheatley may be contacted at lonniewheatley@gmail.com.
---
Article Credit: Lonnie Wheatley
Submitted By: Lonnie Wheatley
Back to News