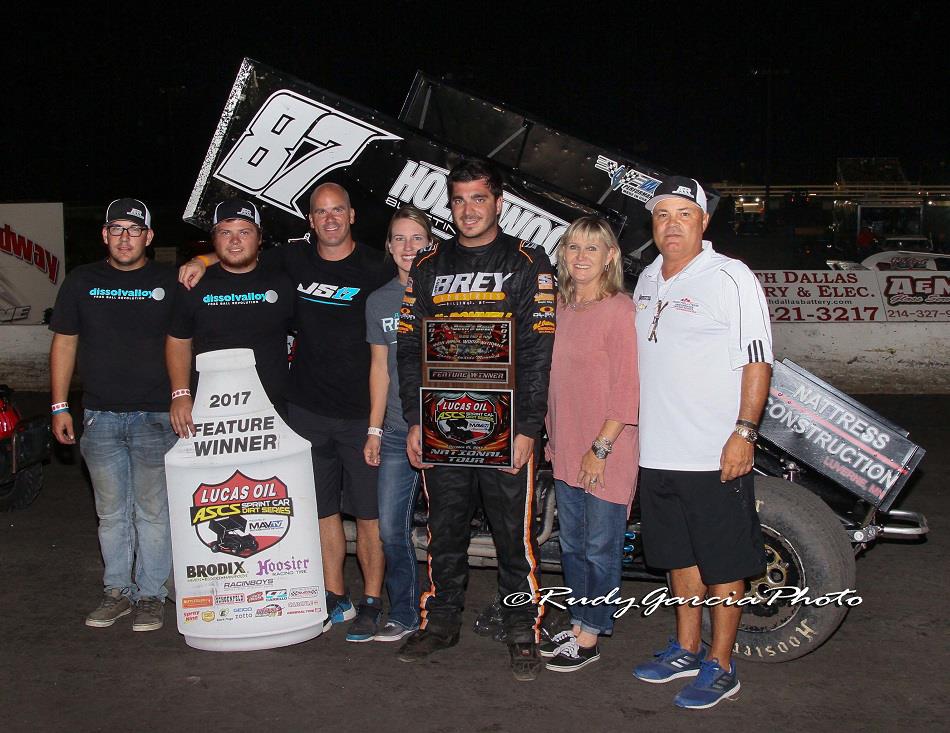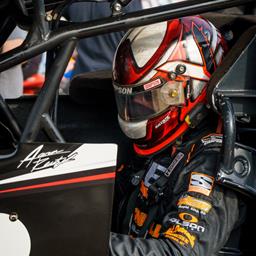 ---
Reutzel Rules Devil's Bowl Winter Nationals – Next Stop Cocopah
Lonnie Wheatley, CLUTE, Texas (October 26, 2017) – Aaron Reutzel made the most of the final racing weekend of the 2017 season within his home state of Texas by racing to victory lane in last Saturday night's Devil's Bowl Speedway Winter Nationals finale aboard the Dissolvalloy Downhole Revolution/BC Fundz No. 87 Triple-X Sprint Car.
Reutzel's seventh overall win of the season aboard the Wren Motorsports/Momentum Racing Suspensions entry and sixth in Lucas Oil ASCS National Tour competition put the wraps on a stellar weekend after rallying from 14th to claim sixth in the Friday night preliminary feature.
With this weekend's Fall Fling at Oklahoma's Creek County Speedway already flung by Mother Nature, Reutzel will finish out the 2017 season with the Lucas Oil ASCS National Tour season finale at Yuma, Arizona's Cocopah Speedway on November 10-11.
"This gives us a couple of weeks to start getting things ready in the shop and get a head start on the 2018 season," Reutzel says.
Reutzel's Devil's Bowl Winter Nationals in Mesquite, TX, started off with a big number in the draw, which didn't bode well on a narrow track. "The track was one lane on Friday night, especially early on," Reutzel explains.
Reutzel made the most of it, advancing three positions to finish fifth in his heat race aboard the Nattress Construction/Wings Unlimited machine to earn the 14th starting position for the feature event.
A strong start propelled Reutzel to another top-ten finish. "I had a really good start, some guys got bottled up ahead of us and I gained a few positions," Reutzel recalls.
Up to fifth by the time a late caution flew, Reutzel ultimately settled for sixth. "I chose the wrong line on the restart and lost a position, but it still made for a good night," Reutzel comments.
Saturday got under way with Reutzel racing from fourth to second in his heat race aboard the Wright Way Logistics/Walker Performance to earn the fifth starting position for the Winter Nationals finale.
"The track was really good and we had a really good car," Reutzel comments. "We had a great car for the feature."
Reutzel moved up to second right away and then tracked down race leader Blake Hahn in traffic to snare the lead en route to his seventh score of the season.
"We got second at the start, I stuck the bottom while everyone else ran the top," Reutzel recalls. "Sam (Hafertepe, Jr.) and I got to racing for second a little and I figured out where to run."
Dialed in to the fast portion of the track, Reutzel began to close the gap on the leader.
"Blake (Hahn) was about a half straightaway ahead, and I started catching him really quick," Reutzel relates. "We had cut the lead in half by the time he got to traffic."
Reutzel knew patience was key. "I knew we were faster, so I just had to be patient," Reutzel says. "He was having a little trouble in traffic, so I was able to pass him pretty quick."
There was no stopping Reutzel in the No. 87 at that point.
"I knew it was game over as long as I didn't wreck myself," Reutzel wraps up
The site of Reutzel's first 410-ci Sprint Car win awaits, as Reutzel will finish off the 2017 season at Cocopah Speedway on November 10-11.
2017 Quick Stats: 76 races, 7 wins, 29 top-fives, 43 top-tens.
Up Next: Lucas Oil ASCS National Tour season finale at Yuma, Arizona's Cocopah Speedway on November 10-11.
Keep Track: Keep track of Aaron Reutzel's on-track action including schedule and results at http://www.aaronreutzelracing.com/, on Facebook at https://www.facebook.com/pages/Aaron-Reutzel-Racing/117666254913127 or on Twitter at @AaronReutzel. You can also e-mail Aaron at aaronreutzel@yahoo.com.
If you would like Aaron Reutzel Racing press releases e-mailed directly to you, send your e-mail address to Lonnie Wheatley at lonniewheatley@gmail.com.
Penning the recurring series of "The Wheatley Chronicles" articles on www.sprintcarmania.com, Lonnie Wheatley provides media, public relations and more for select tracks, drivers and events. For more information, Wheatley may be contacted at lonniewheatley@gmail.com.
(Rudy Garcia photo)
---
Article Credit: Lonnie Wheatley
Back to News