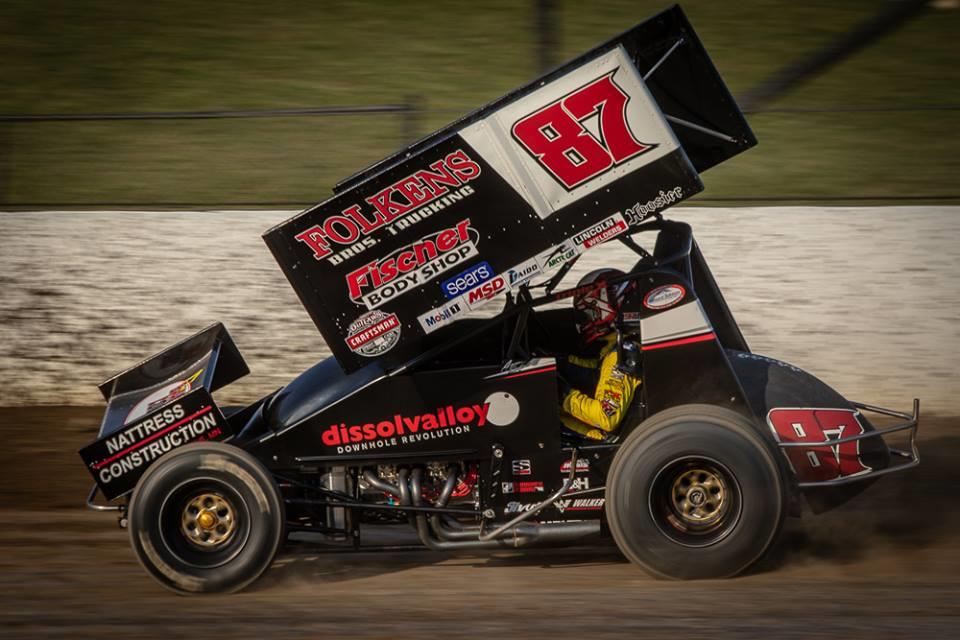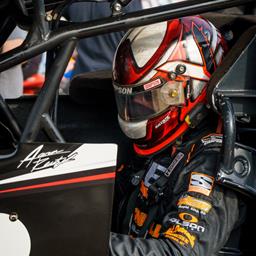 ---
Reutzel Resumes All Star Title Pursuit after Career Best Knoxville Nationals Fourth-Place Finish
Lonnie Wheatley, CLUTE, Texas (August 23, 2018) – Aaron Reutzel continues to climb the charts at the world famous Knoxville Nationals, this time around posting a career-best fourth-place finish in the Saturday night, August 11, 50-lap finale.
With his first top-five Nationals run in the books aboard the Baughman-Reutzel Motorsports No. 87 Sprint Car, the focus is once again upon capturing the All Star Circuit of Champions 2018 championship.
After posting a tenth-place run in the lone event of three that were scheduled for last weekend, Reutzel and the Folkens Brothers Trucking/Dissolvalloy Downhole Revolution Triple-X team take to Pennsylvania for four events this week beginning on Thursday night.
"We have had some good speed at some of these tracks, so hopefully we can make a good weekend of it," Reutzel said.
Reutzel's Knoxville Nationals effort began with a key qualifying lap of 15.139 seconds on Wednesday, August 8, that put him third-quickest of the night. Reutzel followed that up with a critical last-lap pass for the fourth and final transfer position to the feature event.
From there, Reutzel held on to post an eighth-place finish that was good enough to secure the fifth starting position in Saturday night's finale aboard the Precision Catalyst/Hollywood Blasting & Coating/Beard Equipment entry.
"After being really good in qualifying and the heat, we kinda struggled in that feature," Reutzel said of the preliminary night. "We made some wholesale changes for Saturday and were really good in hot laps."
So good in hot laps in fact that he was quickest among the 20 drivers already locked into the big show.
Reutzel went on to run among the top five throughout, ultimately posting a fourth-place run aboard the Nattress Construction/Momentum Racing Suspensions entry.
"We were pretty good early, but we were a little loose the first half of the race," Reutzel explained. "The second half, I was better but the bottom got narrower. I just need more laps there, if you miss your marks at all it can cost you a half-second a lap."
After earning Rookie of the Nationals honors in 2015 and then Hard Charger honors last year, a fourth-place finish in what annually ranks as the premier Sprint Car event of the year was another huge step in the right direction for Reutzel and company.
"We ran fourth at the Knoxville Nationals, that's pretty good and we'll take it," Reutzel says.
With no time for Reutzel and the BRM No. 87 to rest on their laurels, a New York triple with the All Star Circuit of Champions was on deck last weekend with only the Sunday night portion at Lebanon Valley Raceway dodging the rain.
After cutting a tire while racing for the lead, Reutzel rallied back to salvage a tenth-place finish on the night.
"I got a good run on Paul (McMahan) and thought I had him cleared," Reutzel recalls. "I got over his left front though and got a flat. If I would have got by him, I'm pretty sure we would have won that because that track was pretty hard to race on."
Four critical nights of All Star Circuit of Champions competition kicks off Thursday night at Grandview Speedway before moving on to Williams Grove Speedway on Friday, Lincoln Speedway on Saturday and BAPS Motor Speedway on Sunday.
2018 Quick Stats: 55 races, 8 wins, 19 top-fives, 29 top-tens.
Next Up: All Star Circuit of Champions at Grandview Speedway (Bechtelsville, PA) on Thursday, Williams Grove Speedway (Mechanicsburg, PA) on Friday, Lincoln Speedway (Abbottstown, PA) on Saturday and BAPS Motor Speedway (Newberrytown, PA) on Sunday.
Keep Track: Keep track of Aaron Reutzel's on-track action including schedule and results at http://www.aaronreutzelracing.com/, on Facebook at https://www.facebook.com/pages/Aaron-Reutzel-Racing/117666254913127 or on Twitter at @AaronReutzel. You can also e-mail Aaron at aaronreutzel@yahoo.com.
If you would like Aaron Reutzel Racing press releases e-mailed directly to you, send your e-mail address to Lonnie Wheatley at lonniewheatley@gmail.com.
Penning the recurring series of "The Wheatley Chronicles" articles on www.sprintcarmania.com, Lonnie Wheatley provides media, public relations and more for select tracks, drivers and events. For more information, Wheatley may be contacted at lonniewheatley@gmail.com.
---
Article Credit: Lonnie Wheatley
Back to News