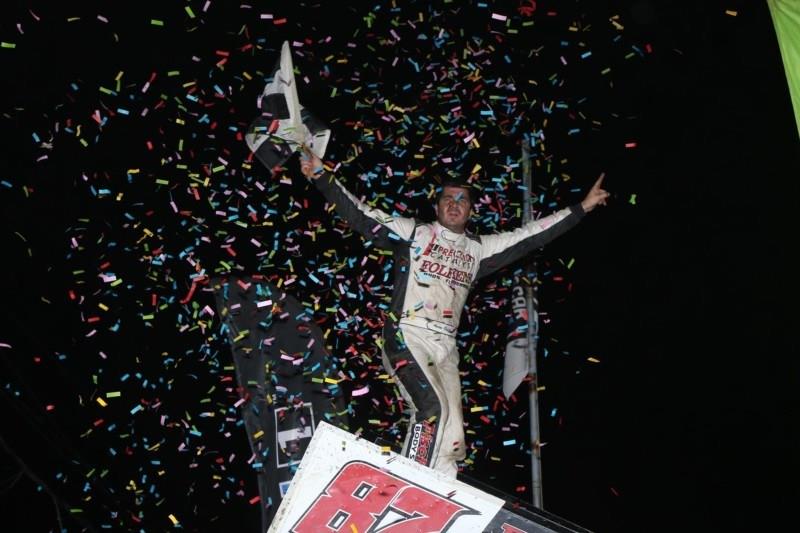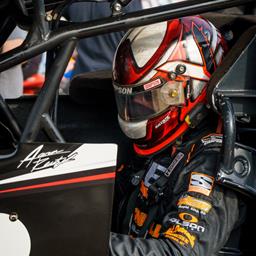 ---
Reutzel Recaptures All Star Points Lead with Posse Win – Ohio Triple this Weekend
Lonnie Wheatley, CLUTE, Texas (August 31, 2018) – After a stellar All Star of Circuit of Champions weekend in central Pennsylvania last weekend for Aaron Reutzel, an Ohio weekend triple kicks off Friday night for the driver of the Baughman-Reutzel Motorsports No. 87 Sprint Car.
Reutzel recaptured the All Star points lead with his ninth overall win of the season at Grandview Speedway last Thursday and proceeded to make it four top-fives in as many races over the weekend aboard the Folkens Brothers Trucking/Dissolvalloy Downhole Revolution Triple-X.
With that strong weekend in the books for Reutzel and crew, they take a 42-point All Star Circuit of Champions lead into this weekend's set of events that includes the Dirt Classic Ohio at Attica Raceway Park on Friday and Saturday and then the Pete Jacobs Memorial at Wayne County Speedway on Sunday night.
After kicking off last weekend's four-race set with a triumph Grandview, Reutzel went on to post finishes of third at Williams Grove Speedway on Friday, fifth at Lincoln Speedway on Saturday and fifth at BAPS Motor Speedway on Sunday.
Reutzel was quick to point out a major factor in the Precision Catalyst/Hollywood Blasting & Coating/Beard Equipment team's success over the weekend.
"We qualified really well, we were among the top two every night so we just had to hold on to a transfer spot in the heat each night to get into the Dashes," Reutzel explains. "I'm not really sure what it is, we're just on point with our qualifying right now. We've been fast just about everywhere lately."
Those qualifying efforts translated into front row starting positions at Grandview and Williams Grove, a fifth-starting position at Lincoln and third at BAPS.
Reutzel made the most of it aboard the Nattress Construction/Momentum Racing Suspensions entry.
A previous trip to Grandview Speedway this season proved valuable for Reutzel.
"We weren't very good in the heat or the Dash," Reutzel recalls. "But we learned at the Speedweek race earlier this season that when the track goes away, it goes away immediately. So even though we were a little too tight in the Dash, we tightened it up some more for the feature."
The decision paid dividends to the tune of an eighth All Star win of the year and ninth overall.
"The car was perfect at the start of the race, and I just edged the wing back as the fuel load ran off," Reutzel said of the dominant performance.
Reutzel gunned into the lead at the drop of the green flag at Williams Grove Speedway on Friday only to have the start called back by a caution.
"I think if that start had gone, we probably would have won that one too," Reutzel says.
Fellow front row starter Kyle Larson got the jump on the second try and Reutzel ultimately finished out the night with another podium finish in third.
"We were really good in the feature, I tried to run down low where Kyle wasn't," Reutzel explains. "I got to Freddie (Rahmer) and Kyle and I think I could have slid them. But it was a good night to make sure I finished at least third since none of the other guys in our points race were in the top ten."
If there was any struggled at all over the course of the weekend, it was at Lincoln Speedway on Saturday. And that netted a fifth-place finish.
"It was pretty tough to pass, you had to be really aggressive to do anything," Reutzel explains. "We got up to fourth, then there was a late restart and I tried to make something happen and lost a position."
Reutzel finished out the stellar four-race weekend in Central Pennsylvania with another fifth-place showing at BAPS Motor Speedway on Sunday.
"We didn't think the track would slow down near as much as it did," Reutzel says. "We were way too loose, we were probably lucky to hang on for fifth."
Reutzel and the BRM No. 87 team look to carry that momentum into Ohio this weekend at Attica Raceway Park and Wayne County Speedway.
2018 Quick Stats: 59 races, 9 wins, 23 top-fives, 33 top-tens.
Quick Results:
Thursday, August 23 – 1st at Grandview Speedway (Bechtelsville, PA)
Friday, August 24 – 3rd at Williams Grove Speedway (Mechanicsburg, PA)
Saturday, August 25 – 5th at Lincoln Speedway (Abbottstown, PA)
Sunday, August 26 – 5th at BAPS Motor Speedway (Newberrytown, PA)
Next Up: All Star Circuit of Champions at Attica (OH) Raceway Park on Friday and Saturday and then Wayne County Speedway (Orrville, OH) on Sunday.
Keep Track: Keep track of Aaron Reutzel's on-track action including schedule and results at http://www.aaronreutzelracing.com/, on Facebook at https://www.facebook.com/pages/Aaron-Reutzel-Racing/117666254913127 or on Twitter at @AaronReutzel. You can also e-mail Aaron at aaronreutzel@yahoo.com.
If you would like Aaron Reutzel Racing press releases e-mailed directly to you, send your e-mail address to Lonnie Wheatley at lonniewheatley@gmail.com.
Penning the recurring series of "The Wheatley Chronicles" articles on www.sprintcarmania.com, Lonnie Wheatley provides media, public relations and more for select tracks, drivers and events. For more information, Wheatley may be contacted at lonniewheatley@gmail.com.
---
Article Credit: Lonnie Wheatley
Back to News