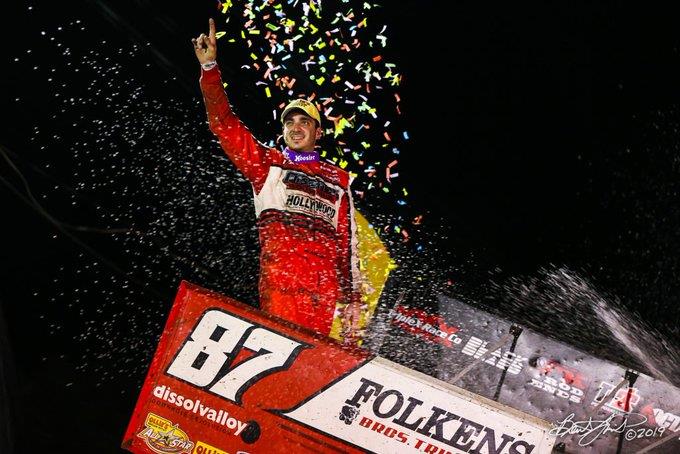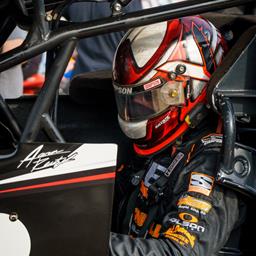 ---
Reutzel Reels Off Two More Wins – Four More All Star Cards this Weekend
Lonnie Wheatley, CLUTE, Texas (August 27, 2019) – Sprint Car racing is most certainly a sport of ups and downs.
Case in point, this past weekend's four-race set for Aaron Reutzel and the Baughman-Reutzel Motorsports No. 87 Sprint Car team with the All Star Circuit of Champions in Central Pennsylvania.
It all started in stellar fashion with Reutzel reeling off two wins in a row aboard the Folkens Brothers Trucking/Dissolvalloy Downhole Revolution Triple-X Sprint Car at Grandview and Williams Grove to recapture the series points lead.
After salvaging an eighth-place finish atop a questionable Lincoln Speedway surface on Saturday, the most unlikely of parts failures on Sunday at BAPS Motor Speedway now has Reutzel and the BRM No. 87 team back in chase mode.
"That has been our season, we either have good luck or just plain horrible luck," Reutzel commented. "We take one step forward and then we just get knocked right back down."
The defending All Star champion and team have been resilient throughout and have four more nights of All Star Circuit of Champions competition in Ohio this weekend to bounce back with two nights at Attica Raceway Park on Friday and Saturday followed up by two more nights at Orrville's Wayne County Speedway on Sunday and Monday.
Last weekend's four-race set kicked off at Bechtelville's Grandview Speedway, where Reutzel reached victory lane last year aboard the Precision Catalyst/Hollywood Blasting & Coating/Beard Equipment machine.
Reutzel wasted little time making it two in a row at Grandview, though he had to work some for it.
"The track was shaping up to be really good, then it rained and it got locked down," Reutzel explains. "I was lucky to draw the one for the Dash."
While he won the Dash to earn the pole position for the feature, outside starter Paul McMahan jumped into the early lead in the main event. Reutzel battled back into the lead though and went on to his eighth series win and 11th overall of the season.
"I had to race really hard to get back by Paul (McMahan)," Reutzel says. "After that, traffic was the only issue because it was so fast that you couldn't pass them. I just had to wait for them to make mistakes to get by."
Action shifted to Williams Grove Speedway the following night where the All Stars had been denied victory lane since the inception of the series nearly 50 years ago. It's a stat that Reutzel changed by the end of the night by capturing his third series win in a row aboard the Nattress Construction/Momentum Racing Suspensions machine.
"We caught a break in the heat, the guy running second made a mistake and I was able to get by and that put us in the Dash," Reutzel recalls.
Reutzel capitalized on that break, winning the Dash and earning the pole position for the feature event
From there, Reutzel fought off Paul McMahan in the early going and then denied Lance Dewease as the laps wound down.
"The first three laps or so were on the bottom, then I saw Paul up top and I moved up and got back by on the high side," Reutzel explains. "Then in heavy lapped traffic, Lance tried to slide me once and I was able to get back by. At the end, I was racing with a lapped car and he gave me just enough room to get on the curb and get by and we hung on from there."
Reutzel recognized the relevance of posting a win at the storied Williams Grove Speedway oval. "It was especially neat because I had to outrun Lance to get that win," the Clute, TX, native explains. "That made it a lot more special than if I had just started on the pole and never really had to race anyone."
In the second feature on the double-feature night, Reutzel started sixth and finished the evening up in ninth.
"We weren't going to run it, but since we had a decent starting position we decided to try some things that we had been thinking about doing," Reutzel says. "It was good early, but it went away pretty bad. As the fuel load burned off, we went backward."
Action moved on to an ill-prepared Lincoln Speedway on Saturday night.
"It was in terrible condition," Reutzel says. "They just didn't prep it at all. If you didn't time in the top two, you had to be on the front row of the heat to get in the Dash because nobody was going to get passed."
After a fourth-place heat race finish, Reutzel made the most of the conditions by climbing from 12th in the feature to finish eighth.
"You couldn't pass in the feature either," Reutzel says. "I got by one car at the start and the other positions I got from guys that got knocked out of the race."
Reutzel and crew rounded out the weekend at BAPS Motor Speedway on Sunday night, timing in fourth-quick and then finishing third in heat race action after starting from the front row outside.
"There was a grip line on the inside, so by the time we got to the first turn we were back to third," Reutzel recalls.
Originally staring the feature in ninth, Reutzel found himself in the fourth starting position after an opening lap incident.
"It took me a minute to figure out how to drive the track," Reutzel says. "I fell back to fifth then I got it figured out and we got back up to third."
Reutzel had the leaders in sight.
"I felt like I was gaining a little bit and making good laps," Reutzel says. "Then going into turn one, the left rear axle broke and that turned us and got us into the fence."
An unlikely parts failure for sure, as the axle had just ten nights on it. It was a rough ending to what looked to be another strong night in the All Star Circuit of Champions title chase.
Now, Reutzel looks to return to winning form with four events in Ohio this weekend.
2019 Quick Stats: 64 races, 11 wins, 28 top-fives, 40 top-tens.
Next Up: All Star Circuit of Champions at Attica (OH) Raceway Park on Friday and Saturday and then Orrville, Ohio's Wayne County Speedway on Sunday and Monday.
Keep Track: Keep track of Aaron Reutzel's on-track action including schedule and results at http://www.aaronreutzelracing.com/, on Facebook at https://www.facebook.com/pages/Aaron-Reutzel-Racing/117666254913127 or on Twitter at @AaronReutzel. You can also e-mail Aaron at aaronreutzel@yahoo.com.
If you would like Aaron Reutzel Racing press releases e-mailed directly to you, send your e-mail address to Lonnie Wheatley at lonniewheatley@gmail.com.
Penning the recurring series of "The Wheatley Chronicles" articles on www.sprintcarmania.com, Lonnie Wheatley provides media, public relations and more for select tracks, drivers and events. For more information, Wheatley may be contacted at lonniewheatley@gmail.com.
---
Article Credit: Lonnie Wheatley
Back to News