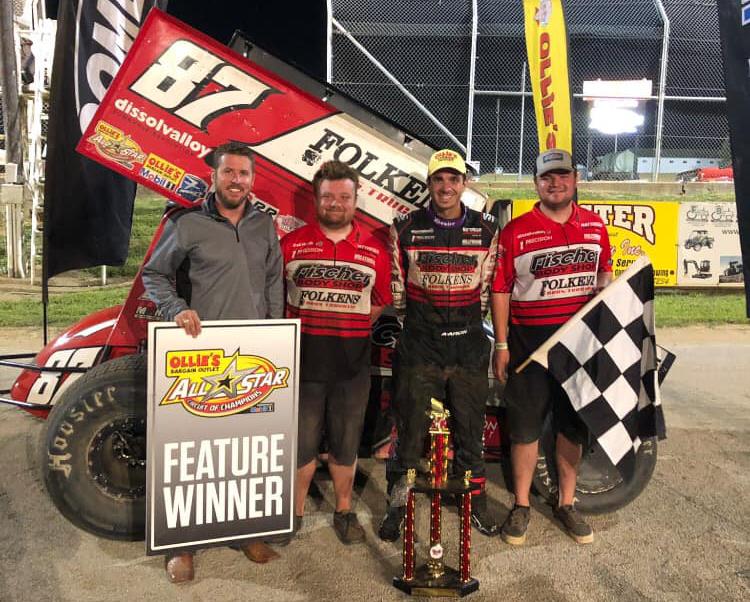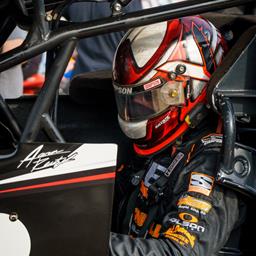 ---
Reutzel Ready for All Star Triple in Posse Territory after Notching Another Victory
Lonnie Wheatley, CLUTE, Texas (September 5, 2019) – Aaron Reutzel and the Baughman-Reutzel Motorsports No. 87 Sprint Car team have been on a roll in All Star Circuit of Champions competition in recent weeks with four scores in the most recent eight events.
It's momentum that the team tries to carry into this week's set of events that includes Bedford Speedway on Thursday night and then the $52,000-to-win Tuscarora 50 on Friday and Saturday at Port Royal Speedway.
"We have had some good speed and some pretty good luck at Port Royal," Reutzel says. "Hopefully, we'll have that this weekend, this would be a nice one to win."
Reutzel enters this weekend's action after notching his 12th overall win of the season last Friday night at Ohio's Attica Raceway Park.
It kicked off what was a nearly perfect weekend, with only mechanical issues denying a likely Saturday night win at Attica and then a close runner-up finish at Wayne County Speedway on Monday after the Sunday card fell victim to rain.
Reutzel opened up the scheduled four-race Labor Day weekend by timing in second-quickest at Attica Raceway Park among the field of 33 and then secured the fourth starting position for the feature aboard the Folkens Brothers Trucking/Dissolvalloy Downhole Revolution Triple-X Sprint Car after a third-place heat race run and a runner-up Dash finish.
Stalking the leader throughout the feature, Reutzel took advantage on a late restart to snare the win aboard the Precision Catalyst/Hollywood Blasting & Coating/Beard Equipment machine.
"I was trying to maintain with Buddy (Kofoid), but he was setting a really fast pace all the way and I had to really race hard just to stay with him," Reutzel recalls. "We had a caution with about five laps to go, he made a mistake on the restart and I was able to slide him to get the lead."
The Saturday portion of Attica Raceway Park's Brad Doty Classic got off to a rough start for Reutzel and the Nattress Construction/Momentum Racing Suspensions team with a qualifying run that put him seventh in his heat race starting grid.
"I jumped the cushion coming to the white flag, it ruined both laps," Reutzel explains. "That was probably the worst that we've ever qualified."
Reutzel made quick amends by racing from seventh to second in his heat race to secure a slot in the Dash and started the feature outside the second row for the second night in a row.
And for the second night in a row, it looked to be another run to victory lane.
"It was the same scenario, the car was so good that I only had to run at maybe 70%," Reutzel says. "I got to the leader, he made a mistake and I got by and was able to set my own pace."
Reutzel fought off one challenge before recapturing the lead. "He got by, then I got back up on the wheel and got the lead back. We had it, then we lost the engine."
With the mechanical issue resulting in a hit in the points race, the team bounced back on Monday night at Wayne County Speedway with another near-win, this time settling for runner-up honors.
"We were probably good enough to win," Reutzel says. "The leader set a pace that I had to run 110% just to keep up. We had a shot on the last lap, but he made a good lap and we couldn't quite get by. It was a good points night for us that we needed after Saturday."
Reutzel will try to keep getting those points this weekend along with a $52,000 Tuscarora 50 winner's share.
2019 Quick Stats: 67 races, 12 wins, 30 top-fives, 42 top-tens.
Next Up: All Star Circuit of Champions at Bedford (PA) Speedway on Thursday and Port Royal (PA) Speedway on Friday and Saturday.
Keep Track: Keep track of Aaron Reutzel's on-track action including schedule and results at http://www.aaronreutzelracing.com/, on Facebook at https://www.facebook.com/pages/Aaron-Reutzel-Racing/117666254913127 or on Twitter at @AaronReutzel. You can also e-mail Aaron at aaronreutzel@yahoo.com.
If you would like Aaron Reutzel Racing press releases e-mailed directly to you, send your e-mail address to Lonnie Wheatley at lonniewheatley@gmail.com.
Penning the recurring series of "The Wheatley Chronicles" articles on www.sprintcarmania.com, Lonnie Wheatley provides media, public relations and more for select tracks, drivers and events. For more information, Wheatley may be contacted at lonniewheatley@gmail.com.
---
Article Credit: Lonnie Wheatley
Back to News