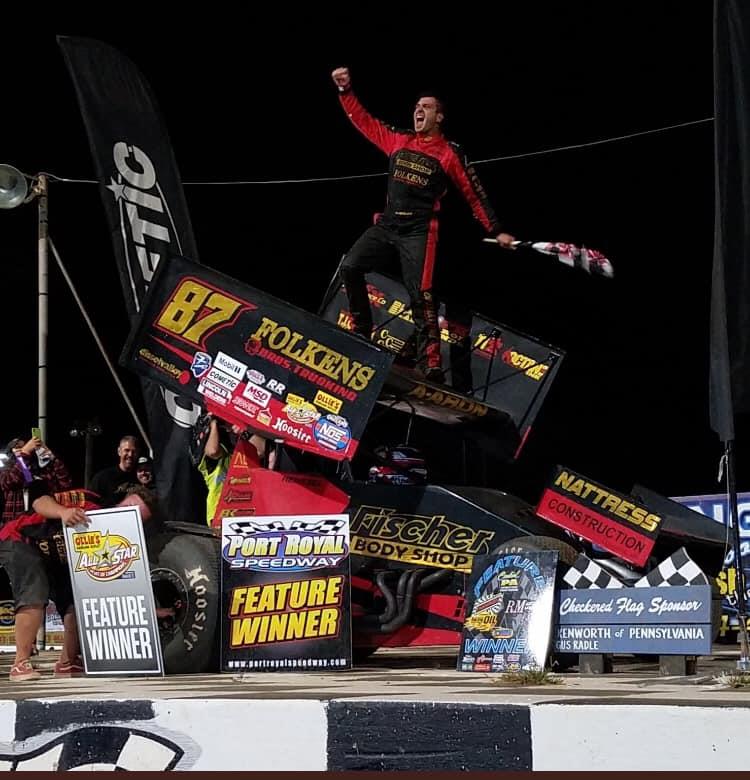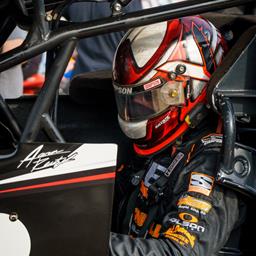 ---
Reutzel Takes All Star Points Lead into Atomic Triple after Largest Score of Career!
Lonnie Wheatley, CLUTE, Texas (September 12, 2019) – Saturday night's Tuscarora 50 turned into a dream run for Aaron Reutzel and the Baughman-Reutzel Motorsports No. 87 Sprint Car team.
Reutzel charged into the lead at the outset of the second half of the 50-lapper and never looked back en route to a $52,000 triumph, his second of the weekend after a Thursday night Bedford Speedway victory and took command of the All Star Circuit Champions points lead in the process.
"When I passed Lance (Dewease), I just decided to go as hard as I possibly could and hope for no cautions," Reutzel says. "It all worked out this time."
After pushing his overall win total to 14 on the season with two triumphs last weekend, Reutzel and the Folkens Brothers Trucking/Dissolvalloy Downhole Revolution Triple-X crew are set for three more nights of All Star Circuit of Champions competition at Chillicothe, Ohio's Atomic Speedway on Thursday, Friday and Saturday this weekend. The weekend set offers up more than $22,000 in first-place money.
Running his series win total to 12 with last weekend's triumphs at Bedford and Port Royal, the defending series champion takes a 44-point lead into this weekend's Atomic triple.
Reutzel kicked off last weekend's triple by racing into the Dash with a heat race win and then securing the pole position for the feature with a Dash triumph aboard the Precision Catalyst/Hollywood Blasting & Coating/Beard Equipment machine. From there, Reutzel led the way all 30-laps in the Bedford (PA) Speedway Thursday night feature.
"The track was really interesting for the feature, it changed throughout the race," Reutzel recalls. "We led all the way, but I spent the entire race searching around because the fast line kept moving from one part of the track to another."
Friday brought the Night Before the Tuscarora 50 at central Pennsylvania's Port Royal Speedway and Reutzel was fast out of the box aboard the Nattress Construction/Momentum Racing Suspensions entry, setting overall quick time over a field of 58 entries and securing the pole position for the feature after a Dash win.
"Port Royal is always good, but I think that was the best condition that I've ever seen it," Reutzel says. "There was a big curb on the fence on both ends and you could run it hard."
Reutzel jumped into the lead at the outset of the feature and appeared destined for a second win in as many nights only to cut a left rear tire on some debris after leading the opening dozen circuits. Returning to action after a quick tire change, Reutzel sliced back through the field to salvage a ninth-place finish.
"We had a really good car, we would have won without hitting that debris and then we drove right back through the field in what time we had left," Reutzel recalls.
Set for Saturday's big-money night at Port Royal's Tuscarora 50, Reutzel timed in fourth among his group and then secured the sixth starting position for the feature after a runner-up heat race finish amongst the field of 53 overall entries.
"The track was night and day difference from the night before," Reutzel says. "It was really slick in the heats, but there was enough up top of turns one and two in the feature that you could rip the fence and then run the bottom to middle of three and four."
Reutzel found the track to his liking, working forward to take the lead on the 13th round and then setting the pace for the next seven circuits before handing the lead back to Dewease before the midrace stoppage.
"We were really good early, but as the fuel load came off, we got really loose," Reutzel explains.
Minor adjustments at midrace proved to be the difference, as Reutzel rocketed past Dewease for the lead on the 28th lap and never looked back in the 50-lapper for the biggest payday in his racing career.
"We were good for a lot longer in the second half, it wasn't until about the last five laps that the car went away and I was just holding on and hoping I had enough of a lead," Reutzel says. "The first half of the race, I was really just trying to save my stuff for the second half. Then when we got the lead, I decided it was time to go as hard as we could."
The 21st career All Star Circuit of Champions triumph for the reigning series champion and current points leader was among the most prestigious and most lucrative of his career.
"Just to win here against this level of competition and in front of this many incredible fans, it's pretty unreal," Reutzel summed up.
With at least one win over each of the past four weekends since a top-five finish at the Knoxville Nationals, Reutzel and the BRM No. 87 team will try to keep that streak intact with this weekend's three-night set at Ohio's Atomic Speedway.
2019 Quick Stats: 70 races, 14 wins, 32 top-fives, 45 top-tens.
Next Up: All Star Circuit of Champions at Atomic Speedway in Chillicothe, OH, on Thursday, Friday and Saturday. Those unable to take in the action in person can watch it all live on PPV at https://www.speedshifttv.com/.
Keep Track: Keep track of Aaron Reutzel's on-track action including schedule and results at http://www.aaronreutzelracing.com/, on Facebook at https://www.facebook.com/pages/Aaron-Reutzel-Racing/117666254913127 or on Twitter at @AaronReutzel. You can also e-mail Aaron at aaronreutzel@yahoo.com.
If you would like Aaron Reutzel Racing press releases e-mailed directly to you, send your e-mail address to Lonnie Wheatley at lonniewheatley@gmail.com.
Penning the recurring series of "The Wheatley Chronicles" articles on www.sprintcarmania.com, Lonnie Wheatley provides media, public relations and more for select tracks, drivers and events. For more information, Wheatley may be contacted at lonniewheatley@gmail.com.
---
Article Credit: Lonnie Wheatley
Back to News