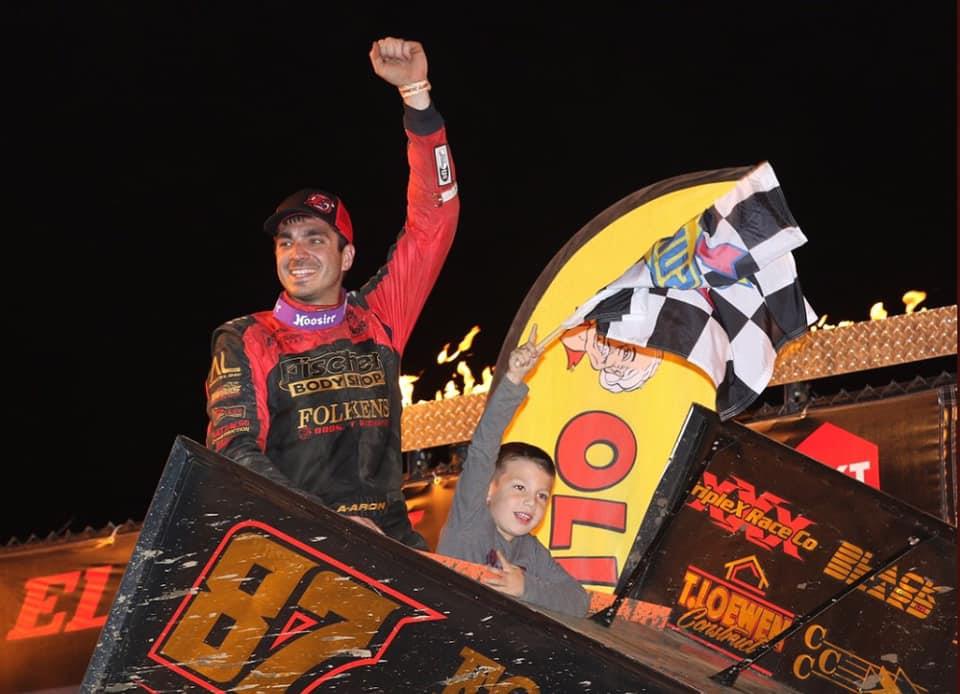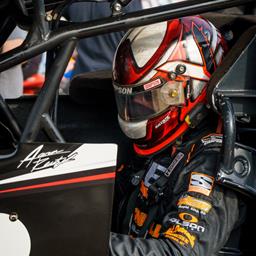 ---
All Star Champion Aaron Reutzel Eyes National Open Loot
Lonnie Wheatley, CLUTE, Texas (October 4, 2019) – Ten wins over the past seven weekends to push the season win total to 18.
That's what Aaron Reutzel and the Baughman-Reutzel Motorsports No. 87 Sprint Car team extended the numbers to with last Saturday's Winged 410-portion of Eldora Speedway's "Four Crown Nationals" triumph in Rossburg, OH, to secure a second consecutive All Star Circuit of Champions title.
It capped off a week that also included a pair of World of Outlaws podium finishes with a third-place run at Jacksonville Speedway on Wednesday and then a runner-up showing in Friday's "Befour the Crowns" event at Eldora.
"No question, it was a good week for us," Reutzel summarized.
The driver of the Folkens Brothers Trucking/Dissolvalloy Downhole Revolution Triple-X Sprint Car will try to keep the recent trend of victory lane visits intact at this weekend's World of Outlaws-sanctioned, $65,000-to-win National Open at Mechanicsburg, Pennsylvania's Williams Grove Speedway on Friday and Saturday.
"We have had some good luck and good runs in big-money races lately and we've also been good at Williams Grove the last couple of times," Reutzel says. "Hopefully we can keep that going this weekend."
Reutzel has raced to victory lane in each of his last two Williams Grove Speedway starts including the "Tommy Hinnershitz Classic" just two weeks ago. This time, along with the fierce contingent of Pennsylvania Posse members, he'll have a band of Outlaws to outgun as well.
"I'm just hoping we can get another World of Outlaws win or two before the season ends," Reutzel comments.
Set to run all but a pair of remaining World of Outlaws events in 2019 with the All Star season in the books, Reutzel got off to a good late-season start with finishes of third and second last week.
It began at Jacksonville on Wednesday with Reutzel and the Precision Catalyst/Hollywood Blasting & Coating/Beard Equipment team finishing the night out on the podium.
"We fought hard, we had the car too tight all night long," Reutzel explains. "I pulled in during the Dash because it was so tight, but then we had it really good for the feature."
It was good enough that Reutzel was able to race forward from the eighth starting position to claim the show position aboard the Nattress Construction/Momentum Racing Suspensions entry.
"That place is so intense, it's just back and forth with different cars and you're constantly racing with someone," Reutzel says of the Jacksonville experience. "We had a good car and we probably finished about where we should have."
Moving on to Ohio's Eldora Speedway for the first of two nights, Reutzel moved up to second on the podium on Friday night.
"I felt like we had a winning car, I nearly passed for the lead at least once," Reutzel recalls. "I got so caught up on racing for the lead that I forgot to pull the wing back and got a little too loose at the end."
Reutzel closed out the weekend with a second consecutive Four Crown Nationals triumph on Saturday to close out the All Star Circuit of Champions season in style.
"We qualified pretty well, but then we just weren't as good in the Dash," Reutzel says. "We got the car good for the feature though and it was pretty easy from there.'
With ten wins in his last 20 starts, Reutzel looks to keep that momentum going at Williams Grove's National Open this weekend.
2019 Quick Stats: 79 races, 18 wins, 41 top-fives, 54 top-tens.
Next Up: World of Outlaws Sprint Cars at Williams Grove Speedway in Mechanicsburg, PA, on Friday and Saturday.
Keep Track: Keep track of Aaron Reutzel's on-track action including schedule and results at http://www.aaronreutzelracing.com/, on Facebook at https://www.facebook.com/pages/Aaron-Reutzel-Racing/117666254913127 or on Twitter at @AaronReutzel. You can also e-mail Aaron at aaronreutzel@yahoo.com.
If you would like Aaron Reutzel Racing press releases e-mailed directly to you, send your e-mail address to Lonnie Wheatley at lonniewheatley@gmail.com.
Penning the recurring series of "The Wheatley Chronicles" articles on www.sprintcarmania.com, Lonnie Wheatley provides media, public relations and more for select tracks, drivers and events. For more information, Wheatley may be contacted at lonniewheatley@gmail.com.
---
Article Credit: Lonnie Wheatley
Article Media
Back to News