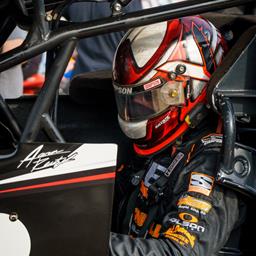 ---
Reutzel Carries Momentum into DIRTcar Nationals after All Star Score at Screven
Lonnie Wheatley, CLUTE, Texas (February 3, 2021) – The new combination is already coming together well for Aaron Reutzel and the Roth Motorsports No. 83 team.
Just as Reutzel and his previous Baughman-Reutzel Motorsports team hit the ground running with victories right away and three consecutive All Star Circuit of Champions titles, Reutzel made his way to victory lane in the first handful of starts aboard the Roth No. 83 Triple X Sprint Car.
After three top-tens at Arizona Speedway's "Wild Wing Shootout" the weekend prior, Reutzel took in the All Star Circuit of Champions season-opening weekend at Georgia's Screven Motor Speedway and posted a runner-up finish on Friday night before breaking into victory lane for the first time of 2021 on Saturday night.
Following a drive from seventh to second on Friday night, Reutzel raced into the lead initially prior to the midway point of Saturday night's 35-lap feature event and then took command for keeps on the 24th round en route to the $10,000 victory.
"We struggled a little bit in Arizona, but we took some time during the week to think about some things," Reutzel commented. "We made a few fine changes and now I feel right at home. Everyone has done such a great job and I can't say how excited I am enough."
The triumph bodes well for the team as they go into this week's DIRTcar Nationals at Florida's Volusia Speedway Park.
It is a week that includes five nights of competition including two All Star Circuit of Champions cards on Wednesday and Thursday and then the initial three nights of Reutzel's initial season as a full-time World of Outlaws competitor.
"We just want to have consistent speed with the car and put together some good finishes during the week, and a win or two would be nice if things play out right," Reutzel says. "Going in off of a win definitely makes us feel better."
Reutzel had a strong DIRTcar Nationals outing last year, picking off an All Star win before posting top-ten finishes during all three World of Outlaws events.
He will hope to add more DIRTcar Nationals wins this year after adding his 37th career All Star win on Saturday night.
2021 Quick Stats: 7 races, 1 win, 3 top-fives, 6 top-tens.
Next Up: DIRTcar Nationals at Barberville, Florida's Volusia Speedway Park on Wednesday through Sunday (All Star Circuit of Champions on Wednesday and Thursday, World of Outlaws on Friday, Saturday and Sunday).
Keep Track: Keep track of Aaron Reutzel's on-track action including schedule and results at http://www.aaronreutzelracing.com/, on Facebook at https://www.facebook.com/pages/Aaron-Reutzel-Racing/117666254913127 or on Twitter at @AaronReutzel. You can also e-mail Aaron at aaronreutzel@yahoo.com.
If you would like Aaron Reutzel Racing press releases e-mailed directly to you, send your e-mail address to Lonnie Wheatley at lonniewheatley@gmail.com.
---
Article Credit: Lonnie Wheatley
Back to News