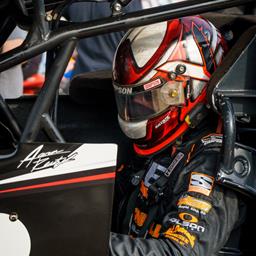 ---
Reutzel Resumes World of Outlaws Rookie Campaign with Northern Tour
Lonnie Wheatley, CLUTE, Texas (June 4, 2021) – Aaron Reutzel continues his maiden voyage along the World of Outlaws trail aboard the Roth Motorsports No. 83 with more new territory in North Dakota and Minnesota this weekend.
The first leg of the Northern Tour kicks off at Grand Forks, North Dakota's River Cities Speedway on Friday night before shifting to Granite City Motor Park in Sauk Rapids, MN, on Saturday night.
After a tremendous start to the season that included 20 top-tens in the initial 23 series events of the season including a pair of wins, Reutzel and crew will try to reverse a spate of bad luck that has lingered over the past pair of weekends.
They nearly did so during Monday's "Memorial Day Spectacular" at Indiana's Lawrenceburg Speedway, earning the pole position for the feature and then holding down a solid runner-up position only to trip up over a gnarly cushion in tun three and get upside down late in the race.
It followed on the heels of an impromptu tenth to sixth-place run at Knoxville Raceway that came about after a Terre Haute rainout on Friday.
Reutzel still holds down seventh in World of Outlaws points and maintains a commanding lead in the Rookie of the Year race. He'll try to build upon that this weekend in North Dakota and Minnesota.
2021 Quick Stats: 38 races, 3 wins, 11 top-fives, 27 top-tens.
Next Up: World of Outlaws Sprint Cars at River Cities Speedway on Friday and Granite City Motor Park on Saturday. Those unable to attend can watch all the action live on www.dirtvision.com.
Keep Track: Keep track of Aaron Reutzel's on-track action including schedule and results at http://www.aaronreutzelracing.com/ and on Facebook at https://www.facebook.com/pages/Aaron-Reutzel-Racing/117666254913127. You can also e-mail Aaron at aaronreutzel@yahoo.com.
If you would like Aaron Reutzel Racing press releases e-mailed directly to you, send your e-mail address to Lonnie Wheatley at lonniewheatley@gmail.com.
---
Article Credit: Lonnie Wheatley
Back to News